I'm a dairy farmer – I like to 'shake it for the cows', people 'fall in love' with my moves | The Sun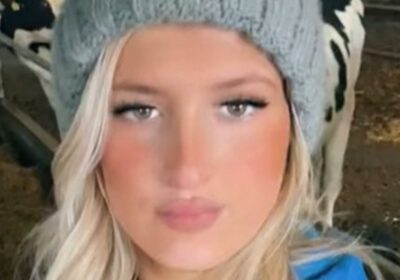 A FEMALE dairy farmer has come up with a novel way of entertaining her cows.
You won't find her method in any agricultural manual.
But English farmer Maisie Downs (@maisiedowns) has been having fun sharing it with her TikTok followers anyway.
And what they are getting is her very own version of a barn dance.
Except the only other invitees are a herd of Friesian and she's the only dancer.
A proud country girl, Maisie asserts that: "Farm life is the best life."
In her latest video, her cows are in for a treat.
"Shaking it for the cows," she says.
Maisie is dressed in a regulation dairy farmer uniform everywhere.
She wears waterproof dungarees, a snug hooded sweater, and a cozy wooly hat.
Most read in Lifestyle
Teacher made 'distress call' before being 'shot dead with daughter by husband'
Nicola Bulley diver claims there could be third party involvement
Massive emergency response seen 5 miles from where mum-of-two disappeared
Missing Nicola's partner issues heartbreaking voicenote 10 days into search
It's not exactly the standard dress code for the disco, but it works here.
A break in the milking routine presents an opportunity for some farmyard choreography.
Thumping music in the background accompanies Maisie's move to the 'dancefloor'.
The barnyard anthem blares out: "Gonna watch you make me fall in love, gonna watch you do you thing."
While her herd munches contentedly on hay in the barn behind her, Maisie busts a few moves.
If the cows are impressed, they don't show it.
Maisie however is enjoying a break from farm life.
Bringing the dance show to an end, at least one of her followers was impressed.
 "Love it," he said.    

Source: Read Full Article