I'm a beauty whizz and found the best hack for curling your hair in minutes – all you need is a hairband | The Sun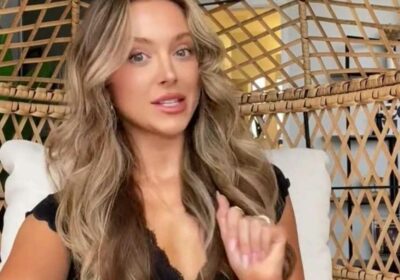 A WOMAN has revealed the easy way to curl your hair in minutes.
Usually, curling your hair takes at least half an hour to do – and you always end up with a dead arm.
But one beauty fan has shown a simple way to curl every strand of hair in just a few minutes.
Abby Baffoe, from the US, shared the easy hack on TikTok – and all you need is a curler and a hairband.
She said: "Trying out the theory today that if you curl your hair in a high ponytail it looks amazing."
Abby then used a scrunchie to avoid any dents in her hair to put her hair in a high ponytail.
READ MORE ON HAIR TIPS
The three common hairstyles you should avoid if you're over 40
Hairdresser reveals her five rules for washing your hair
She said you split your ponytail in half and curl three sections from each half.
Abby ended up doing four sections on each side – and then took the hairband out for the big reveal.
Once she had taken her hair down, the curls looked flawless and no different from spending an hour curling your hair.
Abby added: "The only thing for me is that I might need to touch up my bangs."
Most read in Fabulous
Charles will make major change to Coronation & won't wear old-fashioned costume
I'm a gypsy girl & never go to the toilet in our caravans, it has a different use
Multi-millionaire on Rich House Poor House pays broke man £50k a year
We splashed £4k on Turkey teeth – we haven't drunk anything hot for 5 months
she quickly went over her bangs again and her hair looked perfect.
she said: "Yeah this is a game changer if you're in a rush."
The video soon went viral with over 3.9 milion views and over 273k likes.
People quickly took to the comments section to share their thoughts.
Many said they'd known about the hack for years while others couldn't wait to give it a go.
One wrote: "I don't believe this ..gonna have to try it."
Another person commented: "Are you kidding me?! It looks stunning!!"
"Been doing this for a while I think I've taken years off my life lmao," added a third.
Read More on The Sun
I worked at Tesco and there's a reason we always try to talk to you at the tills
I forked out £900 on extensions but it was an epic fail
Meanwhile, a fourth penned: "I've been doing this for like 10 years because my arms get tired and now I'm watching EVERYONE just now find out about it."
"I always do my curls like that," claimed a fifth.
Source: Read Full Article