I'm a beauty addict – people are amazed when they see how many products I keep in my shower, but I'm all about self care | The Sun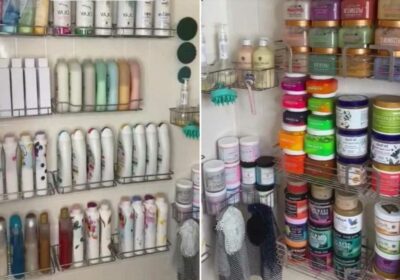 A SELF-DESCRIBED beauty addict has left people stunned after revealing just how many products she keeps in her shower.
She took to her Instagram page to share a look at the jam-packed cubicle, which had shelves on every wall available – laden with bottles and jars.
On one side was a shelf of shower gels, which contained 46 bottles of different scented products.
While on the other was her jar shelf – holding a staggering 60 different jars.
There was also a section of bar soaps, which contained 37 bars.
In addition, she also had corner shelves which all had products on them.
Read more Beauty stories
I'm a skincare pro and here's three things you're doing wrong
I love Home Bargains in search of beauty products and there's £2 Real Techniques
"Me after showing the world all the products I keep in my shower," she wrote over the top of the video.
Adding in the caption: "Everyone was shook."
"I gotta remember to show this video next time my bf complains about the 3 body washes I have in the shower," one person commented on the clip.
"I'm shook, I'm shookkkkkkkkkkk," another wrote.
Most read in Fabulous
Huge 90s band set to reunite for King Charles' Coronation in May
My mum made us both take a pregnancy test for a laugh – but we were left stunned
We were sick of renting so bought a mobile home for £4K & live mortgage free
We wanted unique names for our kids so added 'L' to the beginning of words
"You're the best in the game!"
"My dream shower," someone else gushed.
"How do you clean it???" another person asked.
To which the woman replied: " Just like how anyone else would with their shower?
"It would just take me a little longer taking down the products!"
"I love it," someone else wrote.
Source: Read Full Article