I went to a fancy restaurant and ordered a vegan salad – what I got served was actually hilarious, I left starving | The Sun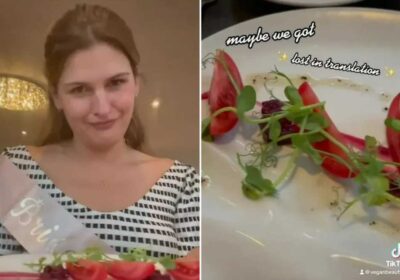 WITH so many more of us opting for a plant-based diet, most restaurants have upped their game and now offer lip-smackingly good vegan offerings. 
But that certainly wasn't the case at the establishment one unfortunate diner visited, where she was served an absolutely tragic-looking salad. 
Nicole has 97k followers on her TikTok account @VeganBeautyGirl, where she shares shopping hauls and recipes for meat- and dairy-free living.
And in a recent clip that racked up a whopping two million views, she shared the hilarious offering she received after ordering a vegan salad at a restaurant while on a hen-do. 
Nicole began the clip by sipping her drink, and writing: "When you order the vegan salad but they serve you this…" 
She then filmed a close-up of the offering: a rather sad-looking plate featuring a sew segments of tomato, a sprinkle of herbs, and a big blob of sauce. 
Read more food stories
Winner winner
I spent £40 on McDonald's to see how much money I could cash back on Monopoly
panned
Woman divides opinion as she shares BIZARRE use of tampon when cooking
She hilariously added a Taylor Swift track in the background, with lyrics saying: "Maybe we got lost in translation…" 
The vegan influencer wrote in the caption: "Let's be honest, this one was shocking" – and viewers clearly agreed, with her video quickly racking up 114k likes and hundreds of disbelieving comments. 
"My jaw actually just dropped… what is that," one wrote alongside a crying emoji. 
"Not even a whole tomato," Nicole added in response. 
Most read in Fabulous
CHEAT SHEET
I cheated on my wife for 11 years – 7 signs your man is contemplating an affair
MYSTIC MEG
In love terms, you have much more say over a bond than you think
IRON MIGHTY
I tested 8 steamers against my iron – and clear winner doesn't break the bank
LISTEN UP
I'm a gypsy – we have our own language & it's offensive when outsiders use it
"Where's the rest of it lmao," another joked. 
And plenty more weighed in with their own horror stories when ordering vegan meals. 
"My favourite was when I got a vegetarian meal at the Christmas party and they served me plain pasta no sauce," one added. 
"A server told me they could make one of their items vegan and gave me a plate of shrivelled carrots for $12," another wrote. 
"When I was vegan the chef told me he'd make me a special meal," a third weighed in. "It was a plate with broccoli and tofu. That was it." 
Fabulous will pay for your exclusive stories. Just email: [email protected] and pop EXCLUSIVE in the subject line

Source: Read Full Article