I was quoted £3k for my dream fireplace – there's no way I could pay it so I came up with a DIY solution and saved loads | The Sun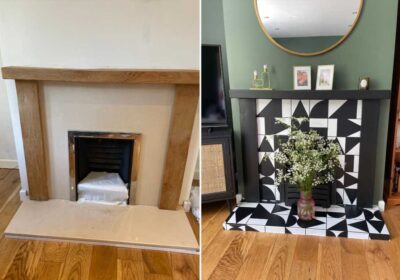 AN INTERIORS fan has saved hundreds of pounds with a DIY fireplace renovation, using just some paint and a roll of vinyl. 
Olivia Batten renovated her fireplace for just £110, whereas replacing the fireplace could have cost up to £3,000.
Speaking to Little Loans Liv said:  "Our fireplace was looking tired and outdated, and didn't fit with our living room decor plans. 
"We considered replacing the tiles or ripping it out altogether, but this would have cost hundreds of pounds. 
"Instead, we transformed the fireplace using vinyl and paint which cost just £110 in total, and I couldn't be happier with the results."   
Olivia Batten, a Digital Copywriter living in Bristol, revealed how she transformed her fireplace on the cheap.
Read More on DIY
I made DIY pumpkin candles for $2.50 each using Dollar Tree buys
I'm a DIY expert & you need to winter-proof your garden furniture – here's how
Giving her tips, she says: "The fireplace renovation was easy enough to do, and so cost-effective – a great solution for those who don't want the costly option of retiling or knocking it down completely. 
"First we used fire-resistant spray on the fire gate to upgrade it from chrome to black, which is more in line with the aesthetic of our living room, and much more modern.  
"Then we sanded and painted the wooden surround black to match. 
"Finally, we applied the vinyl wrap all over and styled the fireplace with candles and flowers to contrast with the sharp features of the fireplace design."  
Most read in Fabulous
FIEND 'FOUND'
Zodiac Killer 'unmasked' by group of sleuths – 54 years after brutal murders
MYSTIC MEG
Listen to your inner voice if it says you need change
TALL ORDER
I'm 6ft 3 and tower over my boyfriend — people stare at us when we're out
STRENGTH TO STRENGTH
Zara McDermott on becoming first Love Island contestant ON Strictly
Olivia says that the amount of money they saved spoke for itself.
"The fireplace renovation cost around £110," she says.
"The vinyl was £90, and the paint was £20. I also borrowed some spray paint, and I used flowers and candles we already owned. 
"If you wanted to transform your fireplace for even less, look for discounts on vinyl as this is the biggest expense. The final touches, such as candles and flowers, also make all the difference; have a look in charity shops for some budget buys." 
Sharing her advice for anyone else who wants to try giving their own fireplace a makeover, Olivia has a few tips when it comes to vinyl application.
"This kind of renovation is simple enough that anyone could do it," she adds.
"The most challenging part is probably applying the vinyl. Only peel small sections off at a time – this will help you to remove air bubbles and is easier to reapply if it's not properly lined up."  

Source: Read Full Article