I travel from London to Turkey every year to get my hair done – people think I'm mad but it only costs me £20 | The Sun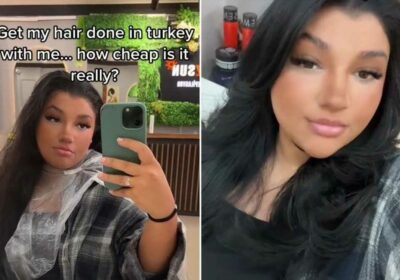 A WOMAN has revealed that she travels from London to Turkey every year to get her hair done.
The UK-based lash technician explained that she has been going to a hairdresser in Turkey to get her hair dyed, cut and blow dried, for the last ten years. 
Not only does she make the journey because she loves how the hair whizz makes her locks look, but she also claimed that it is super cheap and only costs her £20.
Posting on TikTok under the username @ipsbeauty, the beauty fan said: "Get my hair done in Turkey with me…how cheap is it really?" 
We then saw the woman sitting in the hairdressers' chair, ready to get her locks done.
She confirmed that her Turkish hairdresser, who is wanting to move to London, dyes her hair black.
Read more Fabulous stories
My wife & I went to Turkey for veneers…they're so sensitive we can barely eat
I spent £3.5k on liposuction in Turkey but people now accuse me of using filters
The beauty fan shared a clip of the male hairdresser applying the dye to her hair, as she then joked: "He's actually getting sick of seeing me every year. Joke he loves me."
The lash whizz then confirmed that she didn't travel abroad to get her hair done alone, as she noted that her mum went with her too.
She filmed her mum getting her hair blow dried, as she added: "Even mum's getting dolled up! Go on sexy mumma." 
After this, the dark-haired woman filmed herself getting her hair washed, before having her locks cut.
Most read in Fabulous
Prince George's special role in King Charles' coronation REVEALED
Camilla to be known as the Queen from the Coronation onwards
Millie Radford accuses mum-of-22 Sue of 'making money' out of her family
I live on my driveway so I can rent out my house – I rake in £7.6k a month
She opted for a layered look and then got a blow dry.
As she showed off the finished look, she confirmed: "I'm obsessed."
Not only did she love her fresh trim, but she explained that it was extremely cheap too.
She noted: "Only cost 400 Turkish Lira which works out to £20. Plus 200 Lira tip."
The woman's clip has clearly shocked many, as it has quickly amassed 66.4k views.
It has 2,067 likes, 16 comments and 6 shares. 
One person said: "Beautiful." 
Another added: "Looks so good." 
Whilst a third commented: "You will regret it, they ruined my hair. It's nice and everything but their dye damages the hair and you will notice it when you go back home."
To this, the beauty fan snapped back and confirmed: "I've been getting it done here for over 10 years. No problems." 
Read More on The Sun
I was left speechless by my landlords bizarre rent request
Inside the UK's 'WORST' Greggs with overflowing bins – but customers still love it
Many other social media users chimed in to the troll and noted: "They? They who? Turkish hair stylists are world renowned. You may have had a bad experience but you can anywhere."
Whilst another agreed: "Not you judging EVERY hair salon in Turkey over your experience with someone who did your hair."

Source: Read Full Article