I go rummaging through the bins outside Aldi – there's boxes of veg & bakery goodies that'll feed me for days | The Sun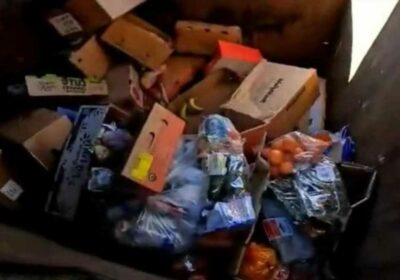 A MAN has told how he saves so much money on food by rummaging through the bins outside a popular supermarket.
The dumpster diver, who posts under the handle @grab_it_fast, shared a video of himself foraging through the rubbish outside Aldi, before stumbling upon boxes of fresh fruit, veg and even some bakery goodies.
Clearly taken aback by the sheer quantity of food up for grabs, he gasps: "Oh baby! We've got some goodies y'all!"
"We have some grapes, peppers, and look at that…some cinnamon rolls!"
Searching through endless boxes, he continues: "We got apples, a whole box of flat breads…all right!
"We have some sweet potatoes, oranges, raspberries."
READ MORE ON FOOD
I'm a food whizz & make the ultimate breakfast in my air fryer…it tastes great
Woman fat shamed in Starbucks says barista assumed the food was all for her
He adds: "This food is still good!"
FABULOUS BINGO: Get a £20 bonus & 30 free spins when you spend £10 today
The video has since gone viral and been inundated with comments from social media users – with very mixed views.
"My friend and I went to an Aldi dumpster the other night and the amount of good produce and chips we found was unreal," noted one.
A second penned: "Unbelievable!"
Most read in Fabulous
Pippa Middleton laughs as she plays with her kids on St Barts beach hol
Camilla is struck down with Covid for a second time
I'm embarrassed when I tell people my kids' names even though I love them
I'm a gypsy & bought a grim caravan from a non-traveller…they lived like pigs
A third quipped: "Everything I just made for tonight was Aldi's dumpster!"
Another commented: "Folk have been brain washed with dates.
"Sell by and use by are different.
"Use eyes, nose and mouth to check…chicken is the exception."
However, others weren't quite so convinced and admitted they wouldn't be hurrying to go dumpster diving for food any time soon.
"Aldi fruit and veg in the UK is terrible, it's gone bad before u even get home," joked one.
A second penned: "My germaphobia could never!"
A third asked: "Tell me you're not gonna eat that????"
Source: Read Full Article