I Finally Tried the Breathable Triple-Layer Face Mask Sarah Jessica Parker Keeps Wearing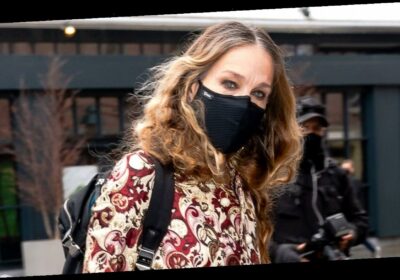 If you've spoken to me recently, or read any of my articles in the past couple months or so, you'd know that I am currently in awe of Sarah Jessica Parker's work schedule. While some celebrities decided to quarantine on private islands, the IRL Carrie Bradshaw decided to work the floor of her shoe store in downtown Manhattan instead. That doesn't mean she packed up her babydoll shoes or glitter boots, but that does mean her outfits still manage to be practical despite being so over-the-top.        
Naturally, when I see SJP wearing a face mask I take note, knowing that she actually needs one that works and that's comfortable to wear for hours at a time. I am lucky enough to currently work from home but I still want the best face mask for when I go on short dog walks or out to eat. Now that spring is finally arriving in New York City, too, I'm planning on spending as much time outside of my apartment as possible and want a mask that doesn't make my face sweat. 
Parker's current go-to is the Ultra sport face mask by celeb-loved brand MasQd. My current favorite face mask is by Wolford and has been worn by Jennifer Aniston. And while I'm definitely not planning on taking it out of my rotation for some time, I'm intrigued by this one Parker has been wearing non-stop for weeks now, particularly because it's unexpectedly built for working out. 
Shop now: $24; masqd.com
Everyone from Jennifer Lopez to Chrissy Teigen to Gigi Hadid loves MasQd, and I've always been in awe of the brand's colorful tweed and leopard print designs that make the much-needed accessory feel like a fun addition to my outfits. But I never thought to buy a sports mask until Parker started to wear hers constantly. I work out in my living room, not currently at a gym or studio or public space, but if SJP wears her sports mask to her shoe store, I figured I could wear one to my local bodega. I ordered the MasQd bright blue Ultra sport mask, and it's the smartest decision I've made in a while. 
For one, the mask offers three layers of protection plus a filter pocket. Ever since the CDC recommended wearing two face masks, I've been doing just that but have been struggling with finding something that works and is comfortable while still making me feel protected. This mask does exactly that and fits perfectly on top of a disposable face mask. The secret is probably the poly-honeycomb outer layer that makes it the most breathable one I own. Considering it was built for working out in, this makes sense, but it still felt revolutionary when I wore it out for the first time. 
I hadn't really noticed how much other face masks warmed my face until I switched over to MasQd's Ultra sport face mask. And while that additional face warmth felt like a much-needed boost in the winter, this lightweight and sweat-resistant alternative feels perfect for the seasonal shift. I actually wore it out on a recent sunny day and nearly forgot I had one on — that's how noticeable the difference was.
Until Parker convinces me to buy another face mask (or pair of glitter Mary Janes) you can find me in this sports one. It's so comfortable it might honestly convince me to go on a run, too — to SJP's shoe store at the very least.
Shop the Sarah Jessica Parker-approved MasQd sports face mask below. 
MasQd Ultra Sports Face Mask in Black
Shop now: $24; masqd.com
MasQd Ultra Sports Face Mask in White
Shop now: $24; masqd.com
MasQd Ultra Sports Face Mask in Camo
Shop now: $24; masqd.com
MasQd Ultra Sports Face Mask in Magenta
Shop now: $24; masqd.com
MasQd Ultra Sports Face Mask in Blue
Shop now: $24; masqd.com
Source: Read Full Article