I can't stand my engagement ring so I've asked to return it, it's not what I wanted but my fiance says I'm ungrateful | The Sun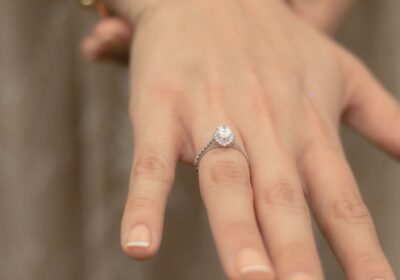 GETTING engaged is a pretty big deal, so when one woman's boyfriend finally popped the question she thought she'd be overjoyed.
The only problem was she hated the ring he picked out, but he thought she was just ungrateful.
The woman knows a thing or two about jewellery, since she's a goldsmith and has been for 10 years.
She explained on Reddit that she'd been with her beau for five years before he proposed, but it wasn't a massive shock since they'd discussed it before.
"During these conversations I have said when it comes to engagement rings because of my job, I know exactly what I want," she explained.
The pair agreed that when the time came, she would make her own engagement ring so it could be just right, not to mention cheaper.
READ MORE ON RELATIONSHIPS
I busted my man cheating on Xmas Day when I saw his Tinder notifications
Here's what Tinder daters REALLY mean when they use the rat or plaster emoji
"As this is my literal job he agreed and said it wasn't traditional but sounded romantic at the same time," she said.
But when he did finally pop the question the woman she shocked to discover he'd picked out a ring on his own – and it was nothing like what she wanted.
"I could tell in the box it wasn't a cheap place holder ring to wear whilst I made the real thing.
"It's also exactly what I didn't want, a solitaire round diamond on a cast white gold band, if that's your style great! I've made enough of them over the years, but it's everything I didn't want."
Most read in Fabulous
I'm sharing shock photo as warning of danger of baby mobiles above cots
Harry 'attacks Kate in book & won't be able to reconcile with William'
Mrs Hinch cleaning fans share 9p hack to banish mould on window sealant
Plus size woman reveals no one knows she's fat because of her slim face
Not wanting to bring the mood down on the day he proposed, she bit her tongue until the next day when she confronted him about the ring.
But her fiance didn't see the problem with the ring he picked out, and revealed that he knew they'd agreed she'd make her own but he wanted to be more traditional instead.
Not only was the ring not what she wanted, but it turns out it also cost her husband-to-be four times more than it would've if she had made it herself.
"He called me ungrateful and I should just be glad he got me a ring and that I would learn to like it," She explained.
Finally, he agreed to return the ring and let the woman make her own, but he wasn't happy about the situation, the woman confessed.
Fellow Reddit users were shocked he totally ignored her request to make her own ring.
One wrote: "You two need to sit down and talk about why he disregarded your agreement. If this is going to be a habit (agreeing then denying), you have some thinking to do."
A second agreed: "If the marriage starts with 'I know you hate it but you should be grateful and learn to love it', then it's better off tossing both ring and fiance."
Source: Read Full Article