Gwen Stefani's style evolution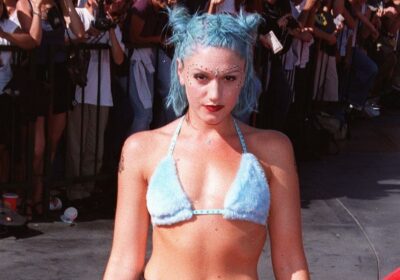 Gwen Stefani has been topping the charts — and slaying the style game! — for nearly three decades now. In honor of her 52nd birthday on Oct. 3, 2021, Wonderwall.com is taking a look back at how the No Doubt frontwoman's sense of style has changed over the years. She started out as a pop-punk princess with cotton candy-colored hair and funky accessories that helped her truly stand out on the red carpet — like when she paired a furry bikini top with a Judy Jetson-inspired skirt over loose-fitting pants and platform thong sandals during the 1998 MTV VMAs.
Keep reading to see how her sense of style has evolved since then…
RELATED: Gwen's biggest career moments
Here's a closer look at Gwen Stefani's hair and makeup during the 1998 MTV VMAs. At the time, the No Doubt frontwoman was known for rocking bindis and other crystal embellishments on her face.
RELATED: Iconic celebrity hairstyles
For a while in the late '90s and early 2000s, Gwen Stefani adorably rocked pink hair — and braces! She matched her scarf to her candy-colored tresses while attending the opening of a new Christian Dior boutique in New York City on Dec. 4, 1999.
RELATED: The most iconic dresses in movie history
We remember this look! Before settling on her signature platinum blonde shade, Gwen Stefani rocked a two-tone bob with chunky pink sections. She flashed her abs (naturally!) and sported a few of her favorite punk rock-approved accessories (a studded belt, oversized hoop earrings, chunky cuff bracelets and shades) at the 2000 Teen Choice Awards.
The most 2001 look ever! Gwen Stefani rocked a simple sleeveless LBD with silver kitten heels to the 10th Annual MTV Movie Awards in 2001. She made up for her relatively tame ensemble by rocking a wacky hairdo: extra-long (and certainly fake!) platinum blonde pigtails.
Gwen Stefani wore her own version of a tuxedo — a fitted jacket over a white bralette with trousers featuring slits along the legs that revealed red fishnet tights underneath — during the very first BET Awards in Las Vegas in 2001. She finished off her look with some killer accessories: a cane and a necklace featuring a giant G pendant.
Gwen Stefani looked like a total ska-punk rocker when she attended the VH1 Vogue Fashion Awards in 2001. She wore a bikini top over a white mesh crop top, a single striped black-and-white arm warmer, embellished capri pants over fishnet stockings and white-and-red pumps. Only Gwen could pull off this wild (and incredibly busy!) look.
Even Gwen Stefani's wedding dress was appropriately funky! When the No Doubt frontwoman married first husband Gavin Rossdale at St. Paul's Cathedral in London on Sept. 14, 2002, she donned this pink-and-white ombré John Galliano gown.
Gwen Stefani channeled Old Hollywood while also honoring her punk-rock roots with the polka dot-covered dress she wore during the 45th Annual Grammy Awards on Feb. 23, 2003. She accessorized with a feathered shrug and red pumps. Later that year, she officially branched into the fashion world by launching her L.A.M.B. line.
Gwen Stefani goes Hollywood! The singer was a vision in white — though she still rocked her signature red lipstick — in a curve-hugging Valentino gown during the 2004 Golden Globe Awards. (It was her first and only time attending the annual award show.)
Gwen Stefani went retro in a pin-up girl-inspired ensemble during the 2004 premiere of "Anchorman." The singer wore green high-waisted pants and a multi-colored crop top that flaunted her taut tummy. Just a few months later, she released her debut solo album.
Gwen Stefani's passion for Japanese culture and fashion was on full display when she attended the 2004 MTV European Music Awards with then-husband Gavin Rossdale. She wore a darling white dress with a corset bodice and sky-high platform lace-up heels. But it was her cherry blossom-inspired headpiece that made this look truly unforgettable. The following year, she launched her Harajuku Lovers line, which was extremely popular at the time but has since drawn criticism for appropriating Japanese culture.
This is how Gwen Stefani does Hollywood glam! The singer looked pretty in pink in a Vivienne Westwood dress and leopard-print heels during the 2004 premiere of "The Aviator." She made her acting debut as iconic actress Jean Harlow in the Martin Scorsese-directed Howard Hughes biopic.
Gwen Stefani's pin-up girl phase continues! The singer walked on the wild side in a retro-inspired leopard-print dress during the 2005 MTV Video Music Awards in Miami.
It was another animal-print dress for Gwen Stefani when she attended the 2006 Grammy Awards while pregnant with her first child, son Kingston Rossdale.
Gwen Stefani let loose her inner disco queen at the 2006 American Music Awards — her first big red carpet after becoming a mom! She rocked a white Gucci romper and channeled Michelle Pfeiffer's "Scarface" alter ego with her shoulder-length bob and blunt bangs.
Gwen Stefani showed off her sophisticated side in a royal blue belted halter dress by Lanvin at the Fourth Annual Black Ball concert in 2007. Of course, she completed her look with her signature red lip. (Some things never change!)
Here's a shocker: Gwen Stefani sported an average LBD — a loose-fitting halter dress that she wore with a belt and black tights — during the 26th Annual Night of Stars Gala in 2009. It was definitely one of her most toned-down looks ever. She even went without her signature red lip!
Gwen Stefani made her Met Gala debut in 2010 in a look that perfectly represented her rocker-chic aesthetic: a shimmery champagne-hued gown from her L.A.M.B. collection featuring sheer tulle wrapped around the bodice, which left her black undergarments partially exposed.
Gwen Stefani dazzled in a sequined jumpsuit with a plunging neckline during the 2011 Cannes Film Festival premiere of "Tree of Life" in 2011.
Gwen Stefani rocked funky geometric-print separates and wore her hair in a top-knot bun (a huge hair trend at the time!) while launching her Harajuku Mini collection for Target in late 2011.
In 2012, No Doubt reunited for their first album in more than a decade. Gwen Stefani often wore pants on the red carpet during that period. At the 2012 American Music Awards, for example, she rocked a Balmain ensemble — black leather pants and a gorgeous embellished blazer.
The theme of the 2013 Met Gala — "Punk: Chaos to Couture" — seemed tailor-made for Gwen Stefani! She donned an appropriately funky Maison Martin Margiela ensemble for the occasion: a floor-skimming white skirt and a black midriff-baring top featuring a massive bow across the bodice.
Gwen Stefani pulled off another iconic maternity-wear moment while pregnant with her third child, son Apollo, at the Wallis Annenberg Center for the Performing Arts Inaugural Gala in Los Angeles on Oct. 17, 2013. While posing hand-in-hand with then-husband Gavin Rossdale, she showed off the stunning metallic fringe on her super-glam Salvatore Ferragamo halter dress.
When Gwen Stefani joined "The Voice" as a coach in 2014, it gave her the opportunity to really have fun with her already playful sense of style. Toward the end of her first season, for example, she rocked this wonderfully wacky getup: a pink-and-orange sweater covered in sequined patches (flames, clouds, smiley faces and hearts among them) and matching orange shorts that she wore with black tights and pumps featuring red hearts at the toes.
Gwen Stefani went glam again for the 2014 Emmy Awards in silver Versace separates: a maxiskirt and a top with a plunging neckline. It was the first and only time she's been on hand during television's biggest night.
Gwen Stefani stunned when she showed up to the 2015 American Music Awards — her first big red carpet after filing to divorce Gavin Rossdale a few months earlier — in this unique Yousef Al-Jasmi confection: a sheer gown featuring a high neckline and a cape detail. She wisely kept her makeup to a minimum, forgoing her signature red lip so that the dress could speak for itself.
Gwen Stefani looked red-hot in a sheer Yanina Couture confection featuring strategically placed crimson leaves at the Vanity Fair Academy Awards Viewing Party in 2016. She had good cause to put in extra effort when it came to her look that evening: The A-list affair marked her official red carpet debut with then-boyfriend Blake Shelton. (That's his hand she's holding.)
Gwen Stefani had a major punk-rock princess moment in a stunning Marchesa gown with a lengthy train and a peplum waist during the 2016 Glamour Women of the Year Awards.
Gwen Stefani channeled a Vegas showgirl — in the best way possible! — during the 2019 Met Gala, which celebrated the museum's "Camp: Notes on Fashion" exhibit. The singer rocked a Moschino ensemble: a bejeweled bodysuit with black tights and an absolutely epic feathered coat. Gwen, who turned 50 just a few months later, made a major statement with this look: She won't stop taking fashion risks anytime soon!
Yes, queen! Gwen Stefani made another major statement during the 2019 People's Choice Awards. She donned a white Verga Wang creation — a strapless mini with a high-low hemline and a big black bow in the back — with the words "Fashion Icon" emblazoned along the lengthy train. She completed her funky look with black opera gloves, black fishnet tights and black over-the-knee boots.
Opposites attract! During the 2020 Grammys, Blake Shelton sported an all-black ensemble while Gwen Stefani donned a darling strapless Dolce & Gabbana mini covered in seashell embellishments. She completed her look with over-the-knee Le Silla boots. Perhaps she was manifesting a wedding gown when she chose this white dress for music's biggest night: Blake proposed later that year.
When Gwen Stefani posed backstage during the 2021 CMA Summer Jam in Nashville, it was clear just how much of an impact Blake Shelton has had on her sense of style: The No Doubt fontwoman donned an adorable lacy white off-the-shoulder mini with Philipp Plein cowboy boots. Her ensemble may have been more than a little country, but the dip-dyed ends of her platinum-blonde ponytail? Totally rock 'n' roll! The long-term couple tied the knot earlier that month. Aside from the major country music event, the newlyweds have been keeping a relatively low profile.

Source: Read Full Article