Fashion hits and misses from the 2021 Cannes Film Festival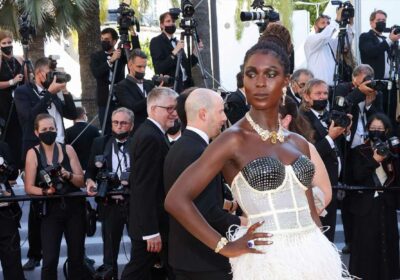 The Cannes Film Festival was back in 2021! All the glitz and the glamour returned in July with the 74th iteration of the famed celebration of movies, and the fashion was a feast for the eyes. Wonderwall.com has rounded up the good and the bad style moments from the iconic event, starting with a flagrant miss from a fashion darling: Jodie Turner-Smith turned up at he "Stillwater" screening on July 8 in this Gucci production that started with a bustier-style bodice with studded embellishments and gave way to a feathered skirt that flowed from white to ombre yellow. She added equally over-the-top Gucci High Jewelry jewels to this excessive look.
Keep reading to see those and more of the festival's hits and misses…
RELATED: Cannes Film Festival 2021: See all the stars who attended
Jodie Turner-Smith accessorized her Gucci gown with more Gucci. Her gold and white drop earrings and matching necklace and bracelet were Gucci High Jewelry, as was that massive ring.
RELATED: Fashion hits and misses for July 2021
Bella Hadid rocked black and white on the opening ceremony red carpet, sporting this beautiful vintage Jean Paul Gaultier number on July 6. The halter-style dress, which featured a black tulle neckline that corresponded with the gown's train and a white fitted silhouette, was originally worn by Naomi Campbell at the fashion house's Spring 2002 show. Next up? A look at her jewels!
RELATED: Fashion hits and misses for June 2021
Dazzling diamonds! Bella Hadid complemented her Jean Paul Gaultier gown with these phenomenal sparklers from Chopard. 
Another black-and-white hit from Bella Hadid! The model rocked this fun and flirty Lanvin number ahead of a Chopard party on July 7. The frock featured a feathered white detail at the neckline that gave way to a fitted short silhouette that made for the perfect party dress. She finished things off with killer Manolo Blahnik heels with a chain detail and Chopard jewels. Let's get a better view of those stunners…
When it came time to add jewels, Bella Hadid accessorized her Lanvin minidress with show-stopping emerald and diamond earrings from Chopard's Precious Lace Collection.
Well, this is… a lot! Sharon Stone arrived at the premiere of "The Story of My Wife" on July 14 in this dramatic off-the-shoulder tulle extravaganza by Dolce&Gabbana. And while the color and silhouette were beautiful, the multicolored floral appliques are where things were wrong. Let's get a better look…
Sharon Stone's Dolce&Gabbana princess-style confection had a killer silhouette, but those faux flowers plastered all over the delicate tulle felt more costume-like than couture.
Terrific in Tom Ford! Timothee Chalamet scored a serious fashion hit at the premiere of "The French Dispatch" on July 12 in this sleek silver jacquard Tom Ford tux, which he paired with a collarless white dress shirt and white boots from the designer. 
Coco Rocha brought the drama in this Dior gown — just look at her braided hairstyle and that pose! — at the "Aline" premiere on July 13. Unfortunately, despite the theatrics, we weren't wild about the burgundy confection, which featured an asymmetrical neckline, an off-the-shoulder detail and… fishnet?
Yep, Coco Rocha's Dior gown included an awful fishnet overlay on top. She even opted to wear her necklace underneath the strange addition. The model also donned seriously dramatic eye makeup.
Gorgeous in green! Jessica Chastain wowed at a July 9 Chopard event in this emerald green spaghetti-strapped Valentino gown with sleek cut-outs at the waist. Equally stunning? The jewelry she accessorized with…
Jessica Chastain added some standout amethyst jewels by Chopard — earrings and a phenomenal bracelet — to complement that green Valentino design.
A bad high-low hemline strikes again! This time, Dylan Penn opted for a Chanel dress with the unfortunate silhouette. She rocked this tacky strapless number by the fashion house with a jeweled belt detail and a disappointing skirt at the premiere of her movie "Flag Day" on July 10. Despite hating the dress, we did adore her shoes… 
Dylan Penn donned these sweet black heels with her Chanel frock — just look at those darling bow details along the strap. 
On July 8, model Izabel Goulart stepped out in these neon green David Koma coordinates. We loved the casual yet easily dressed-up sweater set, which included jeweled buttons and knitted matching shorts. She smartly paired the set with strappy silver and tan sandals, chunky gold hoops and pink shades. 
Another massive Chanel miss! It's hard to believe, but yes, this really is a Chanel outfit on Maggie Gyllenhaal at the premiere of "The French Dispatch." The Canne jury member wore this disastrous look — a baggy and cheap-looking three-quarter-sleeved white blouse with an inexplicably puffy black tulle skirt — on July 12.
Beautiful in blue! The always fashion-forward Tilda Swinton sported this sharp short-sleeved Haider Ackermann pantsuit in a beautiful bright blue shade at the photocall for her film "The French Dispatch" on July 13. 
We didn't love Candice Swanepoel's look at the "Annette" premiere on July 6. Her Etro jumpsuit was nearly entirely sheer, with silver embellishments and feathered details throughout, and looked more costume-like than couture on the Cannes red carpet. And when it came time to styling the look, we were underwhelmed with her jewelry choices.
Candice Swanepoel added Pomellato chain-link jewelry — earrings, a necklace and a ring — in a strange selection that varied from the usual diamonds on a Cannes red carpet. 
Right from the runway! Maria Bakalova attended the Louis Vuitton dinner on July 13 in these cool coordinates — a sleeveless tunic-style top and pants in a bold blue starburst print — which were previously seen on a model at the brand's fashion show. 
A denim ballgown? Though Britney Spears iconically rocked one at the 2001 American Music Awards, Marion Cotillard did not pull it off at the July 10 premiere of "Peaceful (De Son Vivant)" where she sported this unfortunate look — a long-sleeved dress with a floor-length skirt all in a subtly patterned dark denim. 
Marion Cotillard strikes again! She's no stranger to miss lists, so we're not surprised about this bizarre "Annette" photocall outfit she wore on July 6. The Chanel getup included a collared and sleeveless top paired with bike shorts and funky dual-colored booties — a puzzling look. 
Jessica Chastain dazzled in a strapless Dior confection at the "Annette" premiere on July 6. The frock featured a sweetheart neckline and a subtle black pattern atop delicate tulle. And when it came time to add jewelry, Jessica infused a little color in an unexpected place…
Jessica Chastain added a Chopard ruby and diamond necklace crafted from dozens of stones to her beautiful "Annette" premiere ensemble. She also rocked a matching ring. 
Salma Hayek served up this miss at the July 11 Kering Women in Motion Awards during the Cannes Film Festival. Her Gucci frock featured a funky double-strap detail and too many blue sequins that ranged from aqua to navy. One part of her look we loved? The unique earrings she rocked…
When it came time to add earrings, Salma Hayek certainly did better. The actress chose a dazzling pair plus a matching ear cuff.
Stunning! Jodie Turner-Smith donned this killer Gucci gown while attending the Kering Women in Motion Awards during the Cannes Film Festival July 11. We loved the dramatic sleeves and neckline and the way it flowed into a column-style skirt with purple, pink and green embellishments. 
This certainly made a statement! Bella Hadid arrived at the "Tre Piani (Three Floors)" premiere during the Cannes Film Festival on July 11 in this Schiaparelli Haute Couture low-cut and long-sleeved wool crepe gown that truly brought high fashion to the red carpet thanks to its pairing with a gilded brass necklace in the shape of trompe l'œil lungs adorned with rhinestones, all designed by the brand's artistic director, Daniel Roseberry. (Bella's modesty was protected with flesh-toned tape on her chest.) When it came time to add other jewelry, she relied on Chopard…
Bella Hadid added a pop of color with stunning dark red jewels from Chopard including these drop earrings. See her matching ring next…
Look at the size of that! Bella Hadid added another piece from Chopard to completely her bling — a red gemstone cocktail ring that matched her drop earrings and paired beautifully with her gilded brass necklace in the shape of trompe l'œil lungs by Schiaparelli.
Model Taylor Hill arrived at the "Three Floors" premiere on July 11 in this busy number. What started with a tied-up and cropped white blouse ended in an over-the-top printed skirt with tiers and a serious high-low hemline, which at least showed off those pretty silver sandals. Let's take a closer look at her jewelry choices…
Taylor Hill opted for a whole lot of turquoise, and though we liked the stone choice, it didn't quite complement the greens and blues of her skirt. 
Jessica Chastain showed off flawless Cannes street style on July 9 in an all-bronze ensemble underneath a black blazer accessorized with a Versace bag and black pointy-toe pumps with gold hardware. 
Too casual, Timothee! Timothee Chalamet arrived at the Louis Vuitton dinner on July 13 in a Louis track jacket and black trousers, giving off a very low-key vibe, but it was his additions that clenched the look as being too dressed down — a baseball hat, a crossbody bag and funky floral Christian Louboutin sneakers. 
Giving us the definition of impossibly cool Cannes style? Candice Swanepoel, who stepped out on July 7 in these silk coordinates from Magda Butrym paired with chunky white sandals.
Maggie Gyllenhaal rocked one of our favorite looks of the festival at the Dior Cannes Film Festival dinner on July 10 — this dreamy Dior number featuring delicate floral embroidery. She paired the spaghetti-strapped white design with some equally stunning jewels…
Maggie Gyllenhaal added orchid earrings by Chopard to complement her embroidered Dior dress, giving the whole look a floral theme. 
Dylan Penn arrived at a Louis Vuitton dinner on July 13 in — what else? — Louis Vuitton! The actress rocked a simple, classic LBD from the fashion house and added edgy heels and some stunning drop earrings to complete her look. Let's check them out next!
Gorgeous! Dylan Penn added a splash of color to her LBD with these green drop earrings at the Louis Vuitton dinner on July 13. 
We love a pantsuit moment, but the styling on this look that Bella Hadid wore to the Dior Cannes Film Festival dinner on July 10 fell flat. The star rocked an oversized Dior Men suit to the event with a white corset underneath and matching white pumps. All together, it just didn't work.
Poppy Delevingne wowed in yellow Dolce&Gabbana at the premiere of "The Story of My Wife" on July 14. The star's halter-style frock featured a fitted ruched bodice and a flowing semi-sheer skirt. And when it came time to add accessories, she tapped Chopard…
Another bright hue! Poppy Delevingne rocked gorgeous Chopard drop earrings in blue to complement that yellow gown. 
Nope! Izabel Goulart's Cannes Film Festival street style on July 8 failed miserably. From the low-slung baggy jeans to the matching tiny bralette and jacket combo to the strange sandals, chunky gold necklace and pale sunnies, we didn't like any part of this look.
Maggie Gyllenhaal's lovely white number at the Kering Women in Motion Awards on July 11 was one of our favorite looks from the event. The pretty one-shouldered design included delicate embroidery over top frothy tulle. 
Spike Lee opted for this memorable hot pink Louis Vuitton suit for the "Annette" premiere on July 6. He styled it cool as well, adding matching hot pink sunglasses, blue-and-pink sneakers and a black fedora.
Though we liked the silhouette of the one-shouldered ruffled Chanel design Marion Cotillard wore to the "Annette" premiere on July 6, that shiny tinfoil-like fabric lost us.
The black Saint Laurent gown that model Anja Rubik wore to the Chopard Trophy event on July 9 looked pretty straightforward from the front, but this one had a lot happening from another angle…
Check out those cut-outs! Anja Rubik's gown featured some pretty bold and dangerously revealing skin-baring details down the side, as well as a super-high slit. 
Yikes. Adele Exarchopoulos arrived at the Louis Vuitton dinner on July 13 in this unfortunate combo — a cropped and ruched white top paired with high-waisted dual-toned pants with some intense pockets. Adding insult to injury? She paired the otherwise light-hued ensemble with mismatched black and silver cap-toe boots.
Regal in red! Maggie Gyllenhaal sported this pretty strapless gown at the "Benedetta" premiere during the Cannes Film Festival on July 9. The otherwise simple silhouette with a fitted bodice and flowing skirt had one unique element to it — a low plunging dip at the neckline. 
Source: Read Full Article