Camilla wears jewels with link to Queen Mother seen for the first time in five years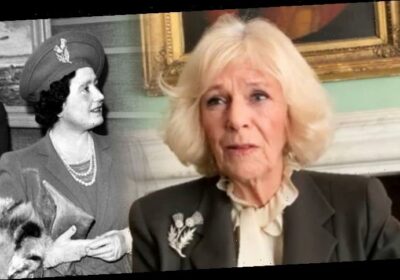 We will use your email address only for sending you newsletters. Please see our Privacy Notice for details of your data protection rights.
Camilla made a statement wearing a piece of jewellery that belonged to the Queen Mother. What is more, the piece appears to have been a favourite of the Queen Mother, wearing it often during the World War II era.
The Queen Mother would often wear the brooch pinned on a hat for a glamorous look.
The brooch symbolises one of the countries that make up the United Kingdom, Scotland.
Despite the symbolism, the Queen Mother wore the brooch even outside of Scottish engagements, showing her fondness for it.
The large piece is made of diamonds and features two thistles rendered from the precious gems.
Its is likely the piece was left to the Queen when the Queen Mother passed away in 2002.
In a show of acceptance and support the Queen has loaned the piece on Camilla, Duchess of Cornwall on a long term basis for her own Scottish engagements.
Camilla: Expert on how Duchess 'broke the ice' with Charles
It appears Camilla is a big fan of the brooch too, wearing it on a trip to New Zealand in 2015.
Yesterday marked the first time the brooch has been seen in five years.
Her Highness wore the stunning piece with a black blazer and a cream pie crust shirt.
The piece sparkled in the light in the video, in which Camilla read a favourite Robert Burns poem, 'My Heart's in the Highlands'.
DON'T MISS
Bracelet with initials 'G' and 'F' caused Diana to become 'obsessed with Camilla' [INSIGHT]
Charles gave 'Camilla the strength to rise above the horrible publicity' [EXPERT]
Camilla, Duchess of Cornwall makes statement amid online abuse [STATEMENT]
Fans were quick to raise the Duchess for her message.
"Thank you, Your Royal Highness, so beautiful and moving," one wrote.
Another said: "Wonderful! a great poet, a great synthetic poetic description of his beloved country, beautifully recited by the Duchess of Cornwall."
Another wrote: "Lovely reading, Your Royal Highness."
This is not the only jewellery Camilla Parker Bowles has been given by the Queen.
She has a number of pieces considered priceless by most royal fans. This includes her engagement ring, which was also the Queen Mother's.
Additionally, she owns a £6million historic "coronation necklace" worn by the Queen Mother too.
The Queen Mother wore it for the coronation of Queen Elizabeth II, and at the time it contained 40 very large diamonds.
Camilla also has a tiara from the Queen, however, the Duchess of Cornwall as never worn it.
The Queen gave Camilla the Teck Crescent Tiara, which has an ancient royal history.
It was a piece that once belonged to the Queen's paternal grandmother, Queen Mary.
The piece also comes with a glittering necklace, worn by the Queen Mother and Princess Margaret.
Source: Read Full Article