Bride shares sweet moment her man popped the question but everyone can't help but notice how awkward the baby makes it | The Sun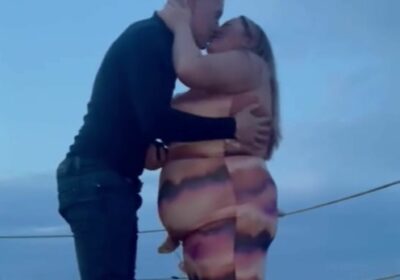 PEOPLE have been left amused over spotting an unfortunate feature in a bride's sweet proposal video.
Bride-to-be Emily had posted the beautiful moment partner Arthur had popped the question by a stunning waterfront location.
In the clip, Emily had been holding her baby, which made the proposal even more sentimental, but people can't stop commenting about the youngster's positioning.
As she posed side-on to the camera, the baby's foot was sticking out, and appeared to look rather rude indeed.
One person joked: "baby foot placement ruined it."
Another person added: "The angle of the child's foot though."
More on brides
Wedding guest slammed for wearing white lace – people mistook her for the bride
Bride gets utterly rinsed for her tacky plan if guest are 'flaky' to her wedding
A third laughed: "I didn't see the baby in the beginning and was trying to figure out what the foot was, Congratulations."
Emily, who posts under @emilylouise_ox, responded to the comments saying: "Sorry that you think that."
Many were quick to share their congratulations and ignore the foot, with one saying: "What an amazing memory and ur little one being involved too, congratulations."

Source: Read Full Article