Brave mum-of-four, 39, with incurable cancer says she 'dresses for chemo like she's on a night out' to cope with the gruelling treatment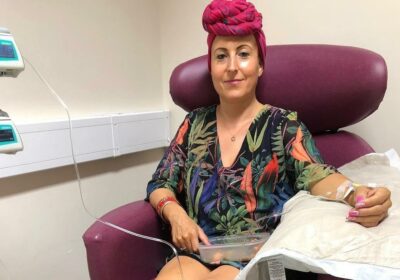 A MUM of four who has been diagnosed with incurable breast cancer says she "dresses for chemo like she's on a night out" to cope with the gruelling treatment she'll need for the rest of her life.
Lisa Fry, 39, from Cheltenham, was first diagnosed with aggressive stage three cancer at the age of 31 in 2011 while she was breastfeeding her third son Woody.
After 12 rounds of chemotherapy, Lisa underwent radiotherapy and a lumpectomy before going into remission and returning to her job as a personal trainer.
Following her recovery, Lisa and her husband Wayne were told by a fertility specialist in 2014 that her cancer treatment had destroyed her chances of having another child.
Lisa said: "I always longed for another baby, but after years of trying, my husband and I spoke to a specialist who told me chemo had destroyed my eggs and it wasn't going to happen for us.
"I was gutted that cancer had made that choice for me – it was supposed to be my decision whether I had more children or not."
However, the couple were delighted when they found out Lisa had fallen pregnant again in 2017.
After feeling nauseous while at a training course for the Cadets, Lisa said: "I began feeling unwell.
"I started to worry the cancer was coming back so I had tests done and found out I was ten weeks pregnant.
But the couple's joy was short lived when Lisa discovered a lump in her breast 35 weeks into her pregnancy.
Already concerned that her cancer would return, the mum had been having scans every three weeks to ensure the baby was well.
She said: "I was so happy to be pregnant again but constantly worried about my baby's health and development.
"I found a lump in my breast when I was about 35 weeks pregnant but again, I just thought it was nothing as I had lumps pop up before and they turned out to be fatty lumps."
Four weeks after discovering the unusual lump in her breast, Lisa's worst fears were confirmed: her cancer had returned and she needed to be induced right away.
"When I saw them at 39 weeks, they told me straight away it was cancer," she said. "I was in complete shock saying 'no, I'm having a baby in less than two weeks, this can't be happening to me.'"
After giving birth to youngest son Jagger in March 2018, Lisa had a full body PET scan just two weeks later which revealed her cancer has already spread from her breast to her chest lymph nodes and sternum bones.
She recalled: "My husband was crying his eyes out, holding our baby. I kept shaking my head saying no this can't be happening.
"It was the worst time of my life, it makes me feel sick thinking about it now.
"I couldn't take it all in, it was a massive shock. How could this be happening to me? I had a two-week-old baby sat there and three children at home."
However, Lisa has now been told she'll need to undergo chemotherapy for the rest of her life to monitor her tumours.
She said: "I did six cycles of chemo and lost my hair again.
"After the six cycles I had a scan again which showed my tumours had shrunk. They will always be there, but they had shrunk which was good.
"I have now moved on to maintenance chemo which I will do for the rest of my life for as long as it keeps working."
However, the mum of four copes with the treatment by "dressing up like I'm going out somewhere nice."
She added: "I wear my heels and make up and it makes me feel better.
"If I went in jogging bottoms with no makeup and didn't bother with my appearance, I'd feel even worse.
"Me wearing makeup, heels and nice clothes makes me feel like me. It makes me feel like I've made an effort."
Dubbed the hospital's "most glamorous patient", Lisa said: "If you look good you feel better, and I believe it's helped me. I get so many compliments, it just feels great."
"I treat every day as if I was going somewhere really special and I don't let cancer define me."
MOST READ IN FABULOUS
UNITED LATEST
Dembele linked with United move, Cristiano Ronaldo joins United WhatsApp
Mason Greenwood arrested on suspicion of rape & GBH after domestic abuse claim
Danniella Westbrook threatens BBC with legal action after EastEnders recasts her
Mason Greenwood faces police probe after arrest on suspicion of rape & assault
In more health news, a brave mum who mistook her bowel cancer symptoms for drinking too much coffee has had her colon removed.
And The Sun's Deborah James has revealed the six pieces of diet and weight loss advice for cancer sufferers that might actually work.
Source: Read Full Article