Best bakery in Scotland revealed – their scones have to be seen to be believed | The Sun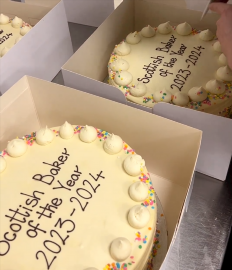 AN Edinburgh bakery has been dubbed the best in Scotland.
Mimi's Bakehouse took the top prize at the Scottish Bakery of the Year 2023/24 at a posh gala held at the Hilton hotel in Glasgow.
Speaking after being handed the award, owner and founder Michelle Phillips, 59, said: "We are beyond overwhelmed by this achievement after nine years of entering and being a part of Scottish Bakers Awards.
"We'd like to thank our incredible staff, customers and partners who work hard every day as part of our extended family.
"As we continue to push forward with new ideas and concepts and celebrate being an award-winning cafe bakery, we hope to make our family business an Edinburgh institution for generations to come."
As well as the top prize, the Leith-based bakers also clinched Bakery Café of the Year as well as a gold award for their gluten-free Chocolate Raspberry Cupcake and regional awards for their fruit scones and sourdough.
Michelle's daughter, Ashley Harley, 35, a manager at the family business, recklons their community values were a driving factor behind their success.
She said: "The community had a chance to vote on it and we had the chance in our entry to write about what we do in the community.
"We support our local football team and we work with a children's charity.
"Not everyone's got money to give at the minute so what we can do for exposure for these organisations, people and groups means a lot.
Most read in Fabulous
BBC Breakfast host Sally Nugent is 'devastated' after split with husband
I'm A Celeb runner-up Jordan Banjo accused of 'affair' with co-star
Shock moment drunk ex-cricket star knocks OAP off bike & crushes her under 4×4
Phillip confronted Holly in tense phone call after their feud was exposed
"I think it's worth shouting about that."
The tight-knit family firm offers a vast selection of sweet treats from vanilla cupcakes and fruit scones to afternoon tea platters and bespoke wedding cakes.
Despite topping the national Café Bakery category, she described it as a "shock" to end up winning the marquee prize of the year.
Ashley thanked loyal customers who she said were a highlight of her work.
She added: "We want to make people feel warm when they walk in the door.
"There are people who tell us 'I used to bring my daughter in here on maternity leave and now she's 10' and you're like 'What?!'.
"That's amazing."
The competition run by Scottish Bakers – the trade body which represents the Scottish bakery sector – is judged by a panel of 50 experts from the industry, which contributes over £1 billion per year to the Scottish economy.
Read More on The Sun
I'm A Celeb's Jordan breaks his silence after Myleene Klass 'affair' rumours
Full list of shops shutting this month including B&M and New Look
The organisation's president Ian McGhee said:  "Each year our judges look for the best scones, loaves, savoury items, morning rolls, individual cakes and biscuits, as well as French and Danish style pastries and Free-from bread, biscuits and cakes, and the competition was once again close run.
"It was great to see the best iconic Scottish bakes entered alongside some fantastic new innovation on show, a real celebration of our fantastic sector."

Source: Read Full Article