Beauty expert explains Princess Kate's 'dazzling' eye makeup Coronation look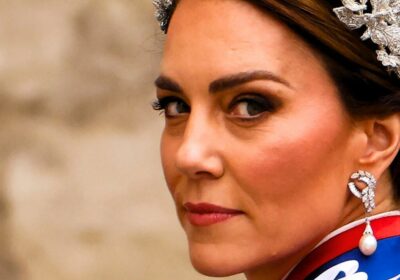 Prince William and Kate arrive at coronation with children
Princess Kate looked "picture perfect" at King Charles's Coronation, and one beauty expert has revealed the secret behind the royal's elegant look.
Laura Kay is a makeup specialist with over 20 years of experience, who is the owner of the award-winning cosmetics business Laura Key London.
She analysed Kate's makeup and was impressed by the time and attention that had been placed in making sure the royal's look for the day marched her regal outfit.
Laura said: "Kate looked picture-perfect at the King's Coronation! This is undeniably her most regal and dazzling look yet."
She added that even the "rich red berry shade of lip" marched perfectly with the tapestry on Kate's robes so that the Princess' look "exuded Royal opulence and elegance."
Kate is known for her tailored outfits with bold colours, and her Coronation outfit showed the Princess was leaning into her new more senior role within the Royal Family, as the royal wore an Alexander McQueen silk white gown underneath her red, white and blue ceremonial robes.
Laura also focused on Kate's "dramatic eye makeup" and explained how to achieve Kate's Coronation smoudlering eye look.
She stated that Kate had enchanted her eyes by using "a mixture of heavily smudged eye shadow and used the cat-eye technique with dark brown liquid eyeliner to make her eyes stand out more."
In order to do this look, Laura explained: "You use a soft brush to blend the desired eye shadow colours to create the shape, and smudge outwards to extend the eyes so they appear wider.
"The eyeliner is a lot more prominent than we normally see from Kate and she has used smouldering earthy browns to achieve her look."
However, Laura said Kate's "most noticeable feature" on Coronation was her "brushed up" brows, which the beauty expert said had been heavily filled in so "each single hair stroke is to perfection."
Laura explained: "Her brows have also been elongated with a pencil or quality brow tool, which you can visibly notice."
Don't miss…
Kate's 'bold' break from royal tradition was barely seen[LATEST]
Kate's 'perfect solution' to tiara row[REVEAL ]
Kate tiara 'controversy' risks overshadowing Charles and Camilla[INSIGHT ]
Laura added that Kate was also able to make her natural features stand out even more by applying a liquid highlighter under her brow.
She said this method "reflects the light and also strategically matched her Alexander McQueen crown and late Diana, Princess of Wales' earrings.
Kate wore a floral and structured headpiece to the Coronation instead of a tiara, which was made with crystals as well as silver bullion.
Laura commented that Kate's hairstyle at the Coronation was styled to highlight her stunning headdress.
Laura said: "Her hair also made a statement with a deep brown rich base and rich golden highlights to the front, which shimmer in the light."
"[Kate] opted for a formal up-do and curled her locks around her crown which is a careful balance of formality and femininity'.
Follow our social media accounts here on facebook.com/ExpressUSNews and @expressusnews
Source: Read Full Article