Asda shoppers are rushing to get their hands on a Diptyque candle dupe and it's £50 cheaper than the original | The Sun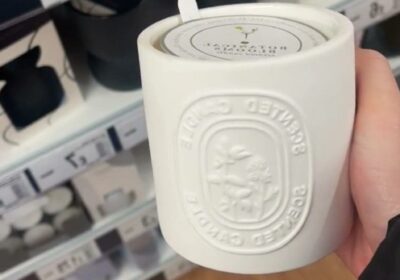 WHO doesn't love a gorgeous scented candle to create a cosy vibe in their home?
Well why not kill two birds with one stone and grab one next time you're doing a food shop in Asda.
Bargain hunters are rushing to the supermarket to get their hands on the perfect Diptyque candle dupe for their homes.
The stunning candle looks just like the real thing but won't put such a big dent in your wallet.
It was spotted by @athomewithtone and shared on TikTok where other shoppers couldn't believe how similar they looked.
The best part is while a similar candle from Diptyque will set you back £62 and a larger version will set you back £165.
READ MORE ON ASDA
Shoppers are racing to snap up Tesco, Asda & Aldi's budget Valentine's Day cards
People blown away after shopper bags loads of Lynx at Asda for super cheap
But Asda's dupe version only costs £5 – so you may as well stock up!
And unlike pricey candles which you're too scared to burn and waste, the scent of this one can fill your home and you can feel totally guilt-free about it.
The fragrance of the Asda dupe is called Country Garden and it has notes of apple, cedarwood, jasmine, musk, orange flower, raspberry, which would be perfect as we slowly transition into Spring.
The candle dupe also boast a 40 hour burn time.
Most read in Fabulous
I'm known as 'Greggs on legs'…I went to the outlet shop and was left stunned
My daughter's school said she drew an inappropriate pig – I can't see the issue
I'm a traveller and here is how I get my living room sparkling
My dad was a famous 80s popstar, he gave us unique baby names & took it too far
Fellow shopperswere stunned by how stylish the candles looked and couldn't wait to get their hands on one for themselves.
Another TikTok user even said she was running to Asda to get one for herself right now.
They said: "On my way to Asda!"
And the shopper replied: "Literally RUNNNN."
Replying to another comment she added: "No legit I'm running back now because I'm scared things are gonna sell out!"
Source: Read Full Article