As easy as ordering pizza: How Gen Z is shifting the debate over fakes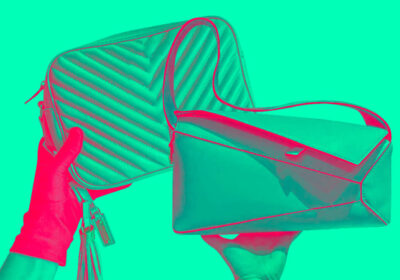 By Melissa Singer
Gen Z is changing counterfeit culture one TikTok at a time.Credit: Stephen Kiprillis
Save articles for later
Add articles to your saved list and come back to them any time.
For James*, the hardest part of ordering a "superfake" bag off the internet was choosing the colour. The Melbourne-based 40-year-old, who asked to use a pseudonym out of legal concerns, runs his own business in the beauty industry, where image matters. But when faced with paying $5500 for the object of his desire – a Loewe Puzzle bag – or a fraction of that for a high-quality "dupe" (short for "duplicate"), James chose the latter.
"A few years ago, I would never do that [buy a fake]," he says, adding that his previous designer purchases were a way of rewarding himself for reaching milestones in life or business.
The Loewe puzzle bag James bought from DHgate (left), compared to the $5500 original.
But after seeing the popular YouTuber and "leather influencer" Tanner Leatherstein (real name Volkan Yilmaz) literally cutting up designer bags to assess their true value, James no longer coveted the real thing.
"I realised that bag [I wanted] costs $200 [to make], so why am I paying $3000? It's everything that's wrong with the world," he says.
And it seems James isn't the only one with these views. Buying replica designer bags used to mean trawling tourist markets or travelling to replica havens such as Shenzhen, near the Hong Kong-China border, or Jakarta's Mangga Dua market.
But for more (and younger) consumers coveting designer dupes, it now means visiting websites such as DHgate, a Chinese-based platform where replicas of brands including Chanel, Gucci and Prada sell for hundreds – not thousands – of dollars. They can be ordered in less time than a takeaway dinner, if users know the terms to search (brand names are often obscured to minimise the risk of legal action by the luxury houses).
As well as ease of access to counterfeits driving interest, Gen Z is also reshaping attitudes towards fakes.
Cassie Thorpe, a New York-based luxury fashion expert and YouTube personality, says the recent acceptability of buying dupes comes down to three factors: the price of real designer goods is higher than ever (and increasing annually); the improved quality of superfakes; and the availability of fakes online means for many consumers, the need to transact in the shadows – and the shame that comes from carrying a fake – is no longer there.
"You can literally hop on the internet, as you would the authentic site, and have it delivered to your door," she says in a recent video.
A Business of Fashion survey conducted in October 2022 found that 37 per cent of Gen Z respondents in the US said they were willing to wear a counterfeit item, while 42 per cent were opposed. Some even boast about their purchases in "unboxing" videos on TikTok, where the hashtag #DHgate has more than 4.2 billion views.
James paid $123, including shipping, for his bag via DHgate, but he's not about to brag about it.
"Clients bring their bags [into the salon] and I say, 'I love it', and they ruin it by saying it's from Bali," he says. "I want to talk about this great bargain I got … but I am going to try to refrain [from telling the truth]."
So, where do counterfeit bags come from? What makes a fake bag a "superfake"? Can you get in trouble with the law for owning one? And why, when it comes to policing the issue, are the luxury brands themselves so often silent?
Spot the difference … Genuine and counterfeit Dior bags displayed at the Counterfeit Museum in Paris.Credit: Getty
Where do fake bags come from?
Counterfeits are as old as time, as are brands' efforts to stamp them out. Even Louis Vuitton's famous monogram was originally designed in 1896 to prevent copycats ripping off its luggage designs.
There are several known sources – and a few urban myths – of modern-day fakes. Some factories, often based in China's Guangzhou province, use real bags as prototypes to produce copies, and the factories often hire ex-employees of luxury houses to assist in perfecting the details. Another method is the reported existence of "dark" factories (or undocumented shifts) that work alongside the makers of the real bags.
Then there's the theory that the brands themselves are in on it. One oft-quoted scenario goes like this: brand commissions several factories to make a style, only to award the contract to one supplier, leaving the "rejected" bags to seemingly vanish, ostensibly landing on the black market.
While it would make a good film plot, Julie Zerbo, a New York-based IP lawyer and founder of popular website The Fashion Law, doubts its veracity. "These [brands] are companies in the business of destroying bags they don't approve of," Zerbo says. "So I find it hard to get behind the idea that these companies are willingly letting sizeable quantities of these bags into the market."
What makes a fake "super"?
What sets a superfake apart from other fakes is just how close it is to the real thing, in both appearance and construction. Technology has also helped, and most experts agree fake bags have never been better.
"The gap between obvious fake and real designer bag is getting a lot smaller," says Zerbo. "Everything people are saying – from authenticators to brands' attorneys to consumers themselves – is that they are such high-quality fakes, to the extent they are asking: 'Why would I pay so much more to get the real thing?'"
A guide to different bag types
Superfake: A high-quality dupe, often indistinguishable from the original, that usually costs anywhere up to 30 per cent of the real thing.
Outlet quality: A range of bags made with lower-grade materials that are genuine, but marketed for a brand's factory outlets, often marked with a special code on the inside label.
Grey market bags: Goods imported using parallel importing and sold at a discount, often by third-party sites, such as Cosette and Cettire.
Superfakes (a term coined more than 10 years ago) are not new, but in Australia, they have been garnering attention thanks to allegations surrounding the Sydney-based luxury retailer Cosette, which is accused of selling counterfeit bags advertised as the real thing.
Cosette has repeatedly denied selling fakes, and both NSW Fair Trading and the Australian Border Force are investigating.
And what does this have to do with Gen Z?
It may sound like Gen Z is to blame for everything from the death of skinny jeans to the rise of people eating popcorn for dinner, but there's a definite link between this generation and the current wave of dupe-worship.
Zerbo agrees with Thorpe that the shame factor is almost non-existent, which drives fakes above ground and on to social-media platforms, such as TikTok.
"The idea of having someone who's influencing exclusively in this space is a very Gen Z thing," she says.
The counterfeit bag trade is shifting from street vendors to online.Credit: Getty
The democratisation of luxury is also a factor in the spread of fakes, as everyone wants what they can't necessarily afford, says Jane Thompson, owner of Sydney-based designer consignment store Blue Spinach.
"It's very different [today] to what luxury was always about," she says. "It was for a particular demographic: your high-net worth, ultra-high-net worth. These items were hand-me-downs, family heirlooms, secondhand finds – there wasn't the proliferation of it there is today. Because of that, it opens the gateway for fakes to exist on a higher level."
How can you spot a fake?
Often, you can't. One executive with a luxury brand, who is not authorised to speak publicly, tells the story about a party attended by wealthy guests in Sydney, guests were fawning over a woman's bag, which only he knew was fake because the brand had never made that colour.
The anecdote illustrates how it often takes people with intimate knowledge of the product, such as specialist authenticators, to know the "tells"; for example, how many stitches should be from point A to point B, the numerical format of the serial numbers stamped in a particular bag, and so on.
But even the experts sometimes get it wrong. In her 27 years of business, Thompson has unintentionally taken in two fakes. "It's an odd comparison, but even surgeons sometimes make mistakes," she says.
Nose for a fake … Blue Spinach founder Jane Thompson.Credit: Dominic Lorrimer
What does the law say?
Often dismissed as a "victimless crime", counterfeit goods are used by criminal organisations either to launder money or to fund illegal activity, such as drugs, weapons and human trafficking, terrorism or a combination of these.
Other problems in counterfeit production include a lack of oversight over labour conditions. Counterfeits are notoriously made using "exploitation labour", including children, says Australian Border Force's assistant secretary of customs and trade policy, Kimberlee Stamatis. Another issue is the quality of materials in the goods, meaning they can be harmful, even deadly, to the end consumer.
Still, legal experts admit it's unlikely an individual would be pursued by police or a brand for buying or carrying a fake. Selling fakes is much more serious, both commercially and legally, but it can be hard for luxury brands to successfully prosecute, says K&L Gates' Jonathan Feder, an expert in IP law.
"The biggest problem in this space can be where there aren't proper records of how many products were sold [by the accused]. So, the court can sometimes find it hard to show the extent of the damage caused," he says.
Feder says the legal system in Australia is also expensive and time-consuming, meaning many brands may choose to focus on fighting cases in the European Union.
He added that the other challenge is staying ahead of the counterfeiters, who know the legal loopholes to exploit, such as the Australian Border Force website, which posts notices from brands trying to protect their marks. (Only brands registered with the border force can take legal action if goods it suspects are fake arrive at an Australian port.)
"Counterfeiters review that list and see who's not on it, and they know that product can get through."
Make the most of your health, relationships, fitness and nutrition with our Live Well newsletter. Get it in your inbox every Monday.
Most Viewed in Lifestyle
Source: Read Full Article