Amelia Windsor turns heads in pink during London Fashion Week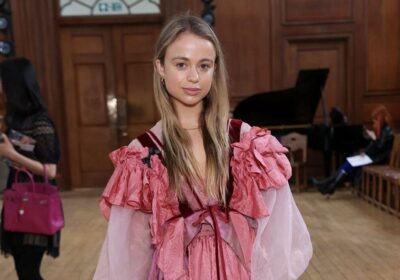 Lady Amelia Windsor attended the Bora Aksu show during the London Fashion Week and sat in the front row wearing a statement dress from the designer. The royal was also photographed on the street outside the Good Enough College, London House, where the show was taking place, wearing a stylish green jacket.
Lady Amelia wore a pink midi dress from designer Bora Aksu which she complemented with a pair of black moccasins and forest green socks.
She was also seen carrying a cute pink and white handbag with a chain and wore a long khaki quilted jacket outside.
The statement dress featured long transparent puffed sleeves, a V-neck and a voluminous flowy pink skirt.
The gown was from Bora Aksu's 2022 autumn/winter collection, which was all about the 14th-century Renaissance.
We use your sign-up to provide content in ways you've consented to and to improve our understanding of you. This may include adverts from us and 3rd parties based on our understanding. You can unsubscribe at any time. More info
The Renaissance-inspired collection used recycled fabrics to create the dresses, "showing that beauty does come in many forms".
Fashion designer Bora explained that in a bid to be "less consuming", she decided to search for "fabrics that were not newly produced or polished".
"Instead, I asked to see the leftover fabrics and fabrics stuck in the back rooms of manufacturers due to their discolouring, or aged appearance," she told Forbes.
As part of the collection, the designer used the rejected fabrics to create the "most elaborate garments" and instead of hiding their defects "I displayed them in their full glory".
Lady Amelia Windsor is the paternal granddaughter of Prince Edward, Duke of Kent, who was a first cousin of Queen Elizabeth II, making her a third cousin of Prince William and Prince Harry.
From her mother's side, Amelia descends from the Austrian Tomaselli family and she is the younger sister of Edward Windsor, Lord Downpatrick, and Lady Marina Windsor.
Earlier this week, Amelia attended the memorial service to honour British fashion designer Dame Vivienne Westwood in London.
For the memorial, the royal wore one of the designer's most iconic handbags, the Derby Harlequin.
Lady Amelia, who is the 42nd in the line of succession to the British throne, wore a black midi dress with a side-split, a blazer and leather knee-high boots.
Prince William's third cousin works as a model and influencer and a couple of years ago she founded her own environmental platform.
Known as Talia Collective, Amelia works as an ethical fashion advocate writing about eco-travel and lifestyle.
She has also worked alongside sustainable fashion organisations like Fashion Round Table and recently released her own ballet shoe collection with the Spanish brand Pretty Ballerinas.
"Very excited and grateful to announce I have collaborated with @prettyballerinas on a fun, joyful and colourful collection," she announced.
"Each pair has been thoughtfully designed using recycled garments for the canvas, recycled rubber for the soles and digitally printed designs.
"The collection was made in Menorca where @prettyballerinas have been making shoes since 1918."
Lady Amelia, who has been spotted on the Buckingham Palace balcony on a few occasions in the past, was once named "the most beautiful royal".
Source: Read Full Article