All in white: Meghan Markle wears minimalistic look in new 40th birthday video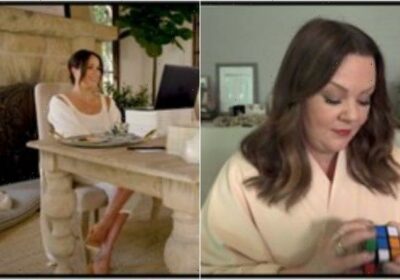 Meghan Markle releases 40×40 birthday message on Archewell
We use your sign-up to provide content in ways you've consented to and to improve our understanding of you. This may include adverts from us and 3rd parties based on our understanding. You can unsubscribe at any time. More info
The Duchess of Sussex released a video on her website Archewell co-starring with Melissa McCarthy to announce the launch of the new initiative. Meghan appeared on a Zoom call with Melissa and they had a scripted conversation regarding what Meghan might do to celebrate her 40th birthday.
Melissa joked about getting matching tattoos and having a Suits reunion, to which Meghan replied in a very sarcastic tone.
"I love Suits," Meghan said, "but why would I do a Suits reunion for my birthday?"
The Duchess eventually explained what she is doing to celebrate her 40th birthday by launching a new project.
Meghan said: "Because I'm turning 40, I am asking 40 friends to donate 40 minutes of their time to help mentor a woman who's mobilising back into the workforce.
"Over 2,000,000 women in the US alone and tens of millions around the world have lost their jobs due to Covid.
"I think if we all do it and all commit 40 minutes to some sort of active service we can create a ripple effect."
Meghan and Harry's interior in their Montecito home looked fabulous, with white and beige décor and a huge marble table.
The Duchess looked stunning too, wearing a totally white ensemble.
She wore a knee-length sleeveless white dress, matched with a white cardigan which she wore slightly off the shoulder.
Her necklaces appear to form constellations for star signs, which are most likely the star signs for her children Archie (who is Taurus) and Lili (who is a Gemini).
Meghan has often worn Zodiac necklaces, and when she was a working member of the Royal Family would often wear them from Suetables, to honour her husband's and her son's Zodiac signs.
Meghan styled her hair in her usual low bun with some strands of hair hanging by the front of her face, and beautiful, minimalist makeup.
Her beige stiletto heels could be seen from under their huge marble table, and looked incredible to go with Meghan's totally white outfit.
Copies of Meghan's book 'The Bench' could be seen on the table, along with some beautiful white flowers and a large clear water bottle.
Her cute dog was very well behaved lying in the background on a white and grey striped bed to go with the décor of the room.
Meghan's gold watch and bracelets complemented the white outfit and the beige shoes very well, and her simple gold stud earrings tied the ensemble together.
Melissa McCarthy wore a green, pink and white floral dress and a big white, pearl necklace to go with it.
She wore a bold red lipstick and lots of bracelets on her arm, in a much more elaborate look than the Duchess of Sussex who wore a rather minimalist look.
Melissa's hair was in its usual wavy style as she was very bubbly and excited to chat to Meghan Markle about her 40th birthday celebrations.
This video comes after the Queen, Prince Charles, and the Cambridges all sent Meghan Happy Birthday messages on social media, in what appeared to be an olive branch.
Royal fans were hoping to see new footage from Montecito in celebration of Meghan's birthday, and potentially even pictures of the new royal baby.
Prince Harry appeared at the end of the video and was seen juggling outside the window of the room where Meghan was on a video call to Melissa.
Source: Read Full Article