All eyes on the King's new clothes as Catherine comes close to breaking the rules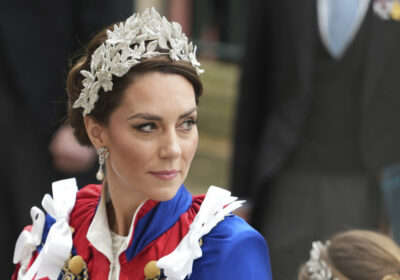 Save articles for later
Add articles to your saved list and come back to them any time.
All it took was a coronation. After years of being overshadowed by the well-dressed women in his life, people were finally interested in what King Charles III was wearing.
In a crimson coronation tunic from London's oldest tailors Ede & Ravenscroft, it was Charles' time to occupy the style spotlight previously directed at Queen Elizabeth, first wife Princess Diana and most recently his daughters-in-law, Princess Catherine and Meghan, Duchess of Sussex.
King Charles III in a custom tunic and overshirt arrives at his coronation; Queen Camilla in an ivory silk gown with gold and silver embroidery from British designer Bruce Oldfield.Credit: Getty, AP
The tunic was worn with a cream silk overshirt from Turnbull & Asser, better-known for their striped business shirts and inspired by the coronation outfits of his predecessors George V and George VI. Ceremonial Royal Naval trousers completed the regal look.
Charles defied expectations that he would arrive at Westminster Abbey in full military attire, preferring to enhance his ensemble with an array of priceless accessories, including the red Robe of State, purple Robe of Estate and three-to-four kilogram golden Imperial Mantle and Met Gala-worthy golden Supertunica.
At 75 years old, Queen Camilla is content to let her husband and king occupy centre stage, unlike Charles' fashion favourite first wife, Princess Diana. For the coronation, Camilla commissioned British designer Bruce Oldfield to design her wide-shouldered, v-neck ivory, silver and gold silk gown.
The gown, with a short train, featured embroidered motifs of abstract wildflowers to represent Charles and Camilla's love of nature.
Princess Catherine and Princess Charlotte both wore Alexander McQueen dresses with a cape and headpiece.Credit: AP
Oldfield frequently provided Diana with dresses, including for her 1983 and 1988 visits to Australia. The princess moved on to European labels such as Dior and Versace after her 1996 divorce from Charles.
Other remnants of Diana's personal style were present at the coronation, with Catherine wearing pearl and diamond earrings that once belonged to her mother-in-law. The earrings enhanced her ivory silk crepe Alexander McQueen dress, featuring silver embroidered rose, thistle, daffodil and shamrock motifs.
Perhaps it was out of fear of being overshadowed that Charles and Camilla requested that Princess Catherine not wear a tiara, preferring formal robes and mantels to add a sense of occasion. It might not have contained diamonds but Catherine's dramatic Jess Collett and Alexander McQueen headpiece with silver bullion, crystal and silver thread work came perilously close to defying her upgraded in-laws.
In a mother and daughter matchy-matchy moment, eight-year-old Princess Charlotte also wore a McQueen dress with a cape and headpiece.
Prince William and brother Prince Harry at the coronation ceremony.Credit: AP
Prince William donned the uniform of the Welsh Guards, while his brother, Prince Harry, was left to pin his medals to a morning suit, having relinquished his role of an active member of the royal family.
As directed, visiting dignitaries were subdued in their coronation outfit choices, with US First Lady Jill Biden wearing a demure cornflower blue Ralph Lauren skirt suit while French first lady Brigitte Macron emanated chic in a pale pink dress with matching coat.
Former foreign minister Julie Bishop flew the flag for Australian style highest, attending in her role as chair of the Prince's Trust Australia. Bishop wore an antique ivory embellished outfit by Zimmermann with a matching titled hat by Sydney milliner Nerida Winter.
"Julie Bishop in Zimmermann and a Nerida Winter hat; French First Lady Brigitte Macron; US First Lady Jill Biden in Ralph Lauren.   "Credit: "Getty, AP"
"It was a collaboration with Zimmermann," Winter said. "I went through fashion college a few years below Nicky Zimmermann so it is a privilege joining her in showing the world the skill of Australian designers who are leaders with subtle silhouettes and simple aesthetics."
"We nailed it."
Make the most of your health, relationships, fitness and nutrition with our Live Well newsletter. Get it in your inbox every Monday.
Most Viewed in Lifestyle
From our partners
Source: Read Full Article