6 office-approved outfit formulas to try for your next job interview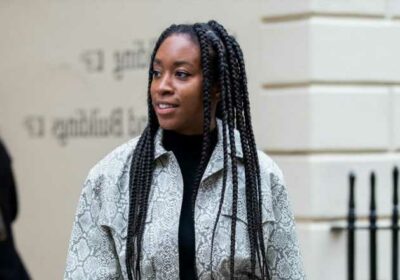 Written by Zoe Anastasiou
From power suits to pencil skirts, we have found the foolproof outfit formulas that will work for your next job interview – no matter what industry you work in. 
While going through the process of interviewing for a new job can undoubtedly be stressful (hello, imposter syndrome!), one of the most anxiety-inducing elements of your preparations is often deciding what to wear. 
Depending on the industry you work in, the outfit you're likely to wear to a job interview can vary dramatically, though generally, it is best to try and strike a balance between professionalism and personal style. You want to show off an element of your personality, while still remaining within the parameters of the expected attire at the workplace you are interviewing for. 
While there is no one-size-fits-all solution to the conundrum of what to wear to a job interview, there are a few tried-and-tested outfit formulas that will work across several different sectors. From a midi skirt and blouse combination to the more traditional tailored trouser and blazer option, playing it safe for a job interview can often be your best bet. 
Below, we've identified six outfit formulas that feel relatively foolproof. If you work in a creative field you might want to add a little extra flair to these options, and conversely, if you work in a more corporate environment, you could opt for more polished iterations of the looks below. 
You can't go wrong with tailored trousers and a button-down shirt.
This is an infallible interview outfit formula if ever we've seen one. It simultaneously manages to look both professional and fashion-forward. Pair a wide-leg tailored trouser in a neutral shade of beige, black or white alongside a button-down shirt and you have yourself a interview look that can span almost any industry. If you're in a creative field, feel free to elevate the ensemble with playful accessories, and if your role is more corporate, finish the outfit with pointed toe pumps. 
A skirt suit feels extremely put together.
Everything about this look says 'polished professional'. A-line midi skirts, fitted blazers and pointed-toe pumps are all cornerstones of a chic work wardrobe. The items would work individually for a regular day at the office, but when worn all together they create a classic look that feels extremely put together. 
A power suit will always work.
Wearing a suit to a job interview often takes the guesswork out of getting dressed. For a corporate environment, opt for a tailored iteration with a shirt underneath and, for more casual workplaces, go for a slouchier fit paired alongside a T-shirt or blouse. Either way, it's a never-fail look. 
Add a little personality to your interview attire with a puff sleeve blouse and pencil skirt.
This look offers the opportunity to add a little personality to your interview outfit. A pencil skirt will always look professional, but choosing an option in a leather fabrication and styling it alongside a puff-sleeve blouse manages to showcase your personal style while still ensuring the look feels elevated. 
Yes, you can wear a mini skirt to an interview, if you style it like this.
A mini skirt might not be the first thing that comes to mind when you think of office outfits, but it's all a matter of how you style it. Here, a mini is paired alongside a matching structured jacket and finished with a rollneck jumper for a sophisticated look that could easily be emulated for an interview. 
Just add a blazer to repurpose your favourite maxi skirt for your next interview.
We love the idea of repurposing other elements of your wardrobe to make them feel office-appropriate.  While a pleated maxi skirt could often be relegated to weekend wear only, styling the item with an oversize blazer and waist-cinching belt creates a fashion-forward look that feels interview-worthy. This particular combination may not work for extremely corporate workplaces, but if you're in a slightly more casual environment, it is definitely one to try. 
Images: courtesy of Getty.
Source: Read Full Article