11 new-in Topshop dresses that are made for sunny days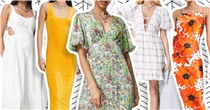 All products on this page have been selected by the editorial team, however Stylist may make commission on some products purchased through affiliate links in this article
From minis to midis and classic to casual, these new-in Topshop dresses deserve a spot on your wishlist. 
When it comes to the great British high street, there are few labels as nostalgic or universally recognised as Topshop. The brand has always been a go-to for contemporary trend-led pieces and affordable wardrobe staples. While we may no longer be able to venture to Topshop's once-iconic Oxford Street flagship store, today the label's fashion legacy lives on through its e-commerce offering available exclusively on Asos. 
Dresses have always been a strong suit for the brand, and there is no sign of that slowing down, as this season Topshop's dress offering feels particularly covetable. Between airy cotton midis that epitomise summer dressing and slinky slip dresses that are just perfect for the upcoming wedding season, Topshop has so many of your bases covered for the months ahead. 
Whether you're in the market for a casual dress in a timeless shade of black or white, or a head-turning ensemble to wear to your next event, we think you'll be able to find what you're looking for on the versatile list below. 
Pair them with heels or wear them with sneakers, dresses are the summer staple you'll never regret investing in. 
Topshop seamed slinky maxi dress

Best New In Topshop Dresses

This sleek maxi dress made us do a double take, as everything about it looks far more expensive than its price tag would suggest. From the body-skimming cut to the fluid, floaty fabric, this slinky maxi is a winner. 

Shop Topshop seamed slinky maxi dress, £35

Buy Now

Topshop cut out side and back large floral midi dress

Best New In Topshop Dresses

A floral dress for summer is nothing groundbreaking. This one, however, feels thoroughly contemporary thanks to its graphic monotone print and modern cut-out silhouette. Bonus point for the fact that it's 100% cotton, meaning it will be very breathable once the warmer weather sets in. 

Shop Topshop cut out side and back large floral midi dress, £45

Buy Now

Topshop ribbed jersey mesh mix midi dress

Best New In Topshop Dresses

Everybody needs a wear-with-everthing long black dress, and this one in particular caught our eye thanks to its unique mesh inserts. The detail adds interest to an otherwise classic item. 

Shop Topshop ribbed jersey mesh mix midi dress, £35

Buy Now

Topshop shirred puff sleeve midi dress

Best New In Topshop Dresses

This will be the kind of dress you'll see in every park this summer. It's versatile, easy to wear and the puff-sleeve detail makes it just perfect for those cooler summer days. 

Shop Topshop shirred puff sleeve midi dress, £45

Buy Now

Topshop Tall poppy spot floral midi slip dress

Best New In Topshop Dresses

If you're on the taller end of the spectrum, this dress is a serious standout. The silhouette is classic, leaving the statement-making poppy print to do all the talking. 

Shop Topshop Tall poppy spot floral midi slip dress, £45

Buy Now
Topshop cut out pinny midi dress

Best New In Topshop Dresses

While white dresses gain prominence each summer, this one feels particularly elevated thanks to its structured cotton fabric and tailored silhouette. It's a holiday-ready staple if ever we've seen one. 

Shop Topshop cut out pinny midi dress, £45

Buy Now

Topshop Petite sustainable blend sketch floral dress

Best New In Topshop Dresses

A cap-sleeve tea dress is extremely versatile, meaning it can see you through a workday or a wedding. This petite option, featuring a painterly print, could easily be paired with heels for a more formal occasion or worn alongside sneakers for a casual event. 

Shop Topshop Petite sustainable blend sketch floral dress, £55

Buy Now

Topshop elasticated ruched waist pinny

Best New In Topshop Dresses

From the full skirt to the crisp white cotton, this dress is offering all the summer vibes, as if it would be right at home on Gwyneth Paltrow in The Talented Mr Ripley. Between the flattering silhouette and classic shade, we guarantee this will stay in your wardrobe for seasons to come. 

Shop Topshop elasticated ruched waist pinny, £39

Buy Now

Topshop cut out side midi dress

Best New In Topshop Dresses

The cut-out trend is a key look for spring/summer 2022, but if you're a little hesitant to embrace Nensi Dojaka-level skin-baring, this dress might just be for you. Its small side cut-outs offer a nod to the trend without showing too much.

Shop Topshop cut out side midi dress, £35 

Buy Now

Topshop textured stripe plunge mini tea dress

Best New In Topshop Dresses

From beach days to park picnics, white mini dresses deserve a place in every summer wardrobe. The textured fabric and bow-detailing work to make this iteration of the summer classic feel particularly special. 

Shop Topshop textured stripe plunge mini tea dress, £50

Buy Now

Topshop sheer check occasion midi slip dress

Best New In Topshop Dresses

You're guaranteed to stand out in this shade of green. This fun maxi dress has summer written all over it. 

Shop Topshop sheer check occasion midi slip dress, £50
Images: courtesy of brand
Source: Read Full Article