11 back-to-the-office buys from great indie brands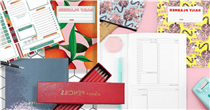 From monogrammed notebooks to an acupressure aromatherapy kit that will help you recover from a stressful commute, here are 11 buys to help with the heading back into the office.
With many people heading embracing the hybrid-working setup these days, we want to feel prepared. But, why throw in any old item into your tote, when you can consciously shop small, too? 
We've rounded up some of the bestselling buys from The Drop by Stylist that will help you ease back into office life, whether you're returning full-time or heading in a few times a week.
You may also like
The best stud and hoop earrings to wear with any outfit this season from indie brands
Fawn & Thistle Personalised Tiger Pattern Phone Case

The Drop: Fawn & Thistle Personalised Tiger Pattern Phone Case

Investing in a new phone case might often fall to the bottom of your to-do list. But what better way to get office-ready than making your devices feel fresh? 

The accident-prone among us know that a case is essential to protect our phones from bumps and scratches. But why go for something subdued when you can show off with this statement tiger design? Complete with an oversized initial personalisation and with the option to add a name of your choosing, it would make a perfect gift for that hard-to-buy for friend – but we'd be tempted to keep one for ourselves too… 

Shop Fawn & Thistle Personalised Tiger Pattern Phone Case at The Drop, £17

BUY NOW
Holdall & Co personalised leather AirPods case with keyring loop

The Drop: Holdall & Co AirPod case

As far as everyday on-the-go essentials are concerned, AirPods are up there for listening to podcasts, voice notes and Adele. But keeping track of which ones are yours when you live with flatmates, family or a partner can be a nightmare. The solution? Holdall & Co's 3D monogrammed leather case.

With an option for both AirPods and AirPod Pros and available in six shades – white, pink, yellow, mint, tan and black – customise yours with up to three characters in a choice of three colour combinations. 

Shop Holdall & Co personalised leather AirPods case with keyring loop at The Drop, £25

buy now

Lund London 300ml Insulated Water Bottle

The Drop: Lund London Skittle Bottle

The chic, cylindrical-topped stainless steel mini bottle will keep thirst at bay, whether you're clutching a flat white (which'll stay hot for 12 hours) or keeping your lemon-infused water cold for an entire day – there's also room for standard-sized ice cubes. The only hiccup will be which of the seven colour combinations to choose from…

Shop Lund London 300ml insulated water bottle at The Drop, £20

buy now

Green & Spring Revitalise Room & Surface Spray

The Drop: Green & Spring Revitalise Room and Surface Spray

Looking for an easy way to anti-bac your desk and/or train or bus seat without going full Naomi-Campbell-on-a-plane?  Green & Spring's room and surface spray is here for you. Spray onto every in-use surface – desk, keyboard, mouse, phone – to leave your space clean and smelling fresh.

Shop Green & Spring revitalise room & surface spray, £9

buy now

Wake Cup Personalised Bamboo Coffee Cup

The Drop: Wake Cup Personalised Bamboo Coffee Cup

With free personalisation and exclusive to The Drop by Stylist, the Wake Cup's design is made from sustainably sourced bamboo. 

Stylish, sustainable and lightweight, this durable coffee cup has an insulated interior which will keep your coffee hot for an hour plus the leak-proof lid and snap top ensure there are no pesky spillages when you're on the way to work.

Shop Wake Cup personalised bamboo coffee cup, £20

buy now

Fawn & Thistle Grr Power Daily Planner & Notebook Set

The Drop: Fawn & Thistle Planner and Notebook

The Grr Power wildcat planner and notebook has been designed by the team to be a useful daily planner – something practical but also fun. 

Every page has sections for the date and day, a to-do-list, emails, notes, a daily timetable, your daily reward and a water tracker.

Shop Fawn & Thistle grr daily planner & notebook set, £18.50

buy now
Scentered Acupressure Foot Mat & Mindful Aromatherapy Balm

The Drop: Scentered aromatherapy balm

If post-lockdown commutes and venturing out in heels again have played havoc on your feet and stress levels, we can relate. 

Scentered's acupressure foot mat and aromatherapy balm bundle, exclusive to The Drop by Stylist, are the soothing dream team that only requires five minutes to work their magic.

Shop Scentered acupressure foot mat & aromatherapy balm, £29.50

buy now

Cupple Twist Together Reusable Cup and Bottle

The Drop: Cupple Cup + Bottle

Founded by cousins Amanda and Eve, the unique twist-together design houses a lidded, insulated coffee cup in the body of a roomy stainless steel water bottle, making it perfect to take to work.

Shop Cupple twist together reusable cup and bottle, £39.50

buy now

Martha Brook Personalised Vegan Leather Notebook

The Drop: Martha Brook Personalised Leather Notebook

Handmade in the UK with a soft leather-effect cover, plain pages for maximum versatility and an elastic wrap-around band to keep everything in place, the only thing left to do is choose which of the five chic colours is your favourite.

Shop Martha Brook personalised vegan leather notebook, £15.95

buy now

Kind Bag 'Hackney' Backpack with Free Reusable Shopping Bag

The Drop: Kind Bag Mini Bag Bundle

Micro crossbody bags have been invaluable for post-lockdown life, but hybrid working calls for something a little more substantial. "Large enough to fit your laptop (and even a change of clothes), the multi-pocketed style adds a welcome splash of colour to your everyday look – the burnt orange gets my vote," says Billie Bhatia, Stylist's fashion and beauty director.

Shop Kind Bag 'Hackney' backpack with free reusable shopping bag, £75

buy now

Sloane Stationery Clever Pencils

The Drop: Sloane Stationery Clever Pencils

Sloane Stationery's Clever Pencils are here to cheer up your work space, make a lovely gift for a friend (the etched in slogans are guaranteed to give a chuckle) or simply get your sketching creativity flowing. 

Shop Sloane Stationery clever pencils, £15

buy now
Source: Read Full Article