Will Smith Addresses 'Sloppy' & 'Tumultuous' Relationship With Jada Pinkett Smith! WATCH!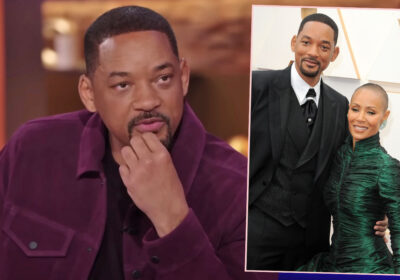 Will Smith is setting the record straight on his relationship with Jada Pinkett Smith.
The Emancipation actor accompanied his estranged wife to a Worthy book tour even in Baltimore, Maryland on Wednesday. There, he let fans know point blank where he stands with the author, despite being separated since 2016. According to the Baltimore Sun, he said:
"I just really wanted to come out and just be here and hold it down for you the way you have held it down for me … We have had a very, very long and tumultuous . We call it 'brutiful'… brutal and beautiful at the same time. Our union is a sloppy public experiment. It is a sloppy public experiment in unconditional love."
Wow. "Sloppy"?? His words not ours! LOLz! But for real, it sounds like the I, Robot actor has SO much undying love for Jada. So much so that despite the pair's ongoing situation, he claims to be "happier" than ever:
"As I stand here before you today, I am happier than I've ever been in my entire life … I have achieved every single thing I have ever wanted in my entire life. There is not one thing left that I desire in this world — all of the awards, all of the money, the family — everything I've ever dreamed."
Damn! When he puts it like that, yeah. He really has had an amazing career — at least up until the last year and a half or so — and for that, he thanks his life partner.
According to the Baltimore Banner, he added that said dreams have been "largely built on the foundation of Jada's sacrifices," posing the question:
"Can you show up and love somebody for the rest of your life, even when you don't agree with them?"
As we all know too well, there's seemingly been plenty to disagree on in their nearly three-decade relationship. He added:
"Jada is the best friend I have ever had on this planet and I am going to show up for her and support her for the rest of my life."
Wow! So it sounds like those rumors they're sticking together really are true! According to the outlet, Jada was even calling him "babe" during the public event, where the couple were also joined by kids Willow, 22, Jaden, 25, and Trey, 30, whom Will shares with ex-wife Sheree Zampino. See a clip from his speech (below):
A post shared by Baller Alert (@balleralert)
A total love fest! We wouldn't have thought that'd necessarily be the case right now. But hey, no one can define their relationship but themselves! And that's the way it should be!
What are YOUR thoughts, Perezcious readers?? Sound OFF in the comments down below!
Source: Read Full Article