Why Not Everyone Is Thrilled With Pete Davidson's Netflix Special After Watching the Trailer
Pete Davidson, known to the world as a comedian on Saturday Night Live and Ariana Grande's ex-fiancé, is getting his own Netflix special and not everyone is thrilled about it. After watching the trailer for the upcoming special, numerous people aren't on board after he made some comments geared towards the LGBTQ community. Read on to learn why people are so upset.
Pete Davidson's new special already has a lot of haters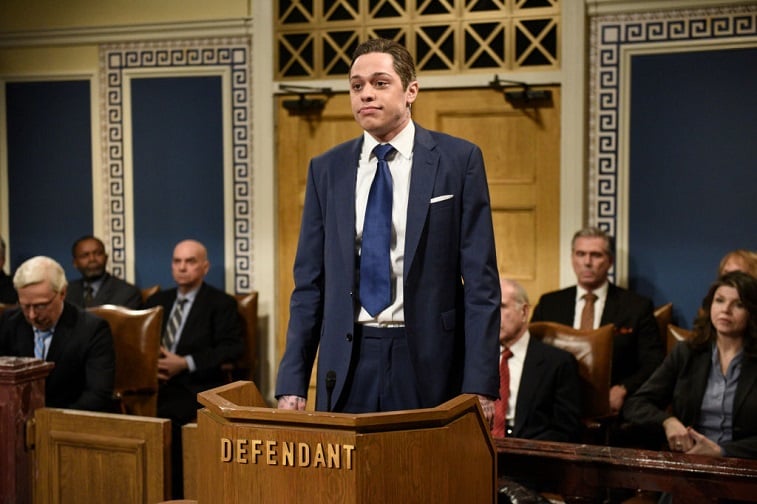 Davidson's new special is called "Pete Davidson: Alive From New York" and it will premiere on February 25. There's already a new trailer for the content and people are in an uproar after seeing it. Davidson makes some comments about gay men.
"I don't think there's a more honest relationship between agay dude and a straight dude because there's just nothing to gain," Davidson startsoff in the trailer forthe special.
Davidson continued: "There's always one gay friend that Idon't think is ******* gay at all," Davidson says. "It's that gay dude thatwill, like, run up on your girlfriend and squeeze her boobs and slap her ***and be like, 'Damn girl, you look great!' I don't find that ******* funny —like at all. I'm all for the gayness; it doesn't mean I'm against gayness. Youjust get to slap *** on a technicality? That's not ******* fair at all. I wouldnever do that just because I could. I would never walk up to his boyfriend, tughis dick and be like, 'Nice, Gary. Not for me, but cool.'"
People aren't happy with Davidson's comments about members of the LGBTQcommunity
As you can probably imagine, many people aren't happy aboutDavidson's new Netflix special after watching the trailer. People took toTwitter to express their disdain about the situation and the comments Davidsonmade about gay people in the trailer.
"Oh great. A straight guy crapping out tired, homophobicstereotypes for cheap laughs from lazy *********. You've really excelledyourselves here," a Twitteruser wrote.
Numerous other people said they didn't enjoy the trailer. "Wowthis is trash," someone else said.
One Twitter user doesn't find any of it funny at all. "Ihave a great sense of humour and I'm not laughing," they said.
Another wanted Netflix to know that they don't want this. "Netflix– NO ONE ASKED FOR THIS OR WANTS THIS IN ANY SHAPE, MAKE OR DESCRIPTION," theTwitter user suggested.
"Comedy is dead because of this video," someone else saidabout the trailer for the new special.
The comments just keep rolling in. "If homophobia and oldstereotypes being peddled by a straight man was the best minute you had tochoose from in promoting this, then Netflix really is a joke," another Twitteruser said.
"I thought these jokes were really funny when I first heardEddie Murphy do them in 1983. I was 11," yet another user expressed.
"Ah great more 'comedy' content for homophobes cause theyreally are lacking materials that support their tiny, fragile, ignorantworldview," another Twitter user said.
Clearly people aren't that excited about the upcoming special. We'll have to see how many people actually turn in to watch it.
Source: Read Full Article