What Zendaya Texted Tom Holland Immediately After Winning Her Emmy Last Night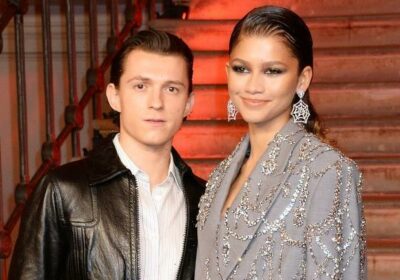 Last night at the 2022 Emmys, pop culture's sweetheart Zendaya made history again when she won her second Emmy Award for playing Rue in Euphoria. This year, Zendaya nabbed the hardware for the coveted Outstanding Lead Actress In A Drama Series (as she did when she made history in 2020), becoming the first Black woman to win the award in the category twice and the youngest person, at 26 years old, to win two Emmys. It's truly just all in a day's work for her.
In an interview post-win, Zendaya was asked about the first person she texted after getting the win. She responded, "I didn't have to text my mom because my mom was already there, she's here tonight, which is very special," Zendaya said. "And I text my boyfriend." Daaaaw!
Zendaya says she texted her boyfriend Tom Holland after she won the Emmy
pic.twitter.com/HKb45iBPgc
While Zendaya didn't namedrop her BF, pretty much the whole world knows she's referring to Tom Holland. This move wasn't super surprising though since Tom and Zendaya try to keep their 'ship as private as two über famous people possibly can. But regardless, it was the most darling thing to actually hear her refer to him as "my boyfriend" (🥺!!!), which fans pointed out she's never done before.
https://www.instagram.com/p/CeRFBGPrNq8/?utm_source=ig_embed&utm_campaign=loading
A post shared by Zendaya (@zendaya)
Tom didn't make it to the awards ceremony last night and instead sent his ~good vibes~ from afar, likely from New York City where he's been filming The Crowded Room. (FYI, the Emmys were held in Los Angeles last night.) TBH, this is a rare move for Tom, who admitted to visiting the Euphoria set "at least 30 times." So you know he only wasn't at the Emmys last night because he truly wasn't able to be.
The couple has been trying to keep their latest moves under wraps, but stans and sleuths alike often sus them out, like spotting them at a NYC restaurant to celebrate Zendaya's 26th birthday just a few weeks ago.
Source: Read Full Article