What You Don't Know About Zuri Hall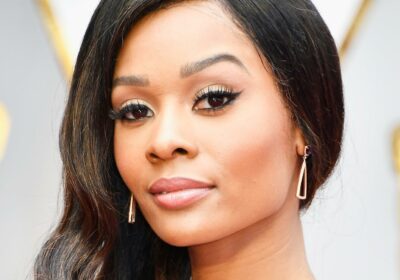 When Zuri Hall wakes up she takes a shower, brushes her teeth, and makes a cup of coffee like the rest of us (via Youtube). Unlike the rest of us the T.V. personality, who went national before the age of 25, also works a bit of journaling into her morning to focus on manifesting her goals. "I believe in the power of thinking things into existence. I think the more you say something, the more you write something down, the more you believe it to be possible and true, the more likely you can draw those things to you," the "Access Hollywood" host told Indy Star.
For what it's worth, it's not all about meditation. Zuri Hall dished to Paper that she's a firm believer in the power of a glass of wine and bubble baths. Also included in Hall's plans for "a life that I continue to love"? As per her Instagram, Hot Cheetos. These days, Hall dishes out a lot of advice. To do so, she has her own podcast, Hot Happy Mes‪s‬, which you should probably listen to based on its name alone. (And, also, because Hall interviews everyone from Meena Harris to The Bachelorette's Tayshia Adams on its episodes). But Hall knows when to stop talking and start listening, too. She's all ears, for example, when Oprah opens her mouth.
Oprah helped Zuri Hall find love
To Paper, Zuri Hall described Oprah as "the ultimate inspiration." It's not just because Oprah is one of the few people in the world that goes by just one name. It's because, as the media personality explained to Indy Star, early on in life, Oprah served as Hall's mirror. "I felt like it made total sense that I should be on screen just like anyone else," she explained. Since at least 2019, however, Hall's had another reason to thank Oprah. It was Oprah who gave Hall the ultimate relationship advice which led her to love. "You need to go through that … I'm dating, drop it like it's hot [phase] all that," Oprah told Hall. "Then you need a period where you just come down to yourself. And then when you're ready he will show up" (via Instagram).
He showed up. Or, to be honest, it was a little bit more complicated than that. Hall met her current beau, NFL player Sean Culkin (who, like Hall, is a Gemini, btw) because E! literally set them up on a date and televised it. (If you can take the cuteness, watch them talk about their meet-cute on Youtube.) After a couple of shots of Fireball (that's cinnamon whisky for the uninitiated), a little champagne (and a surprisingly not-awkward date in which Hall's producers were telling her everything she had to say in secret), the future couple decided they wanted more.
Zuri Hall's luxurious lifestyle
Zuri Hall may have been born in Toledo, but she certainly doesn't live in Ohio anymore (via Authority Magazine). In March 2021, Dirt dished that Hall bought her first house. Located in San Fernando Valley, California, her $1.3 million, 3,3000 square foot property boasts a rooftop jacuzzi, wet bar, granite counter-topped kitchen, home office, and master bedroom with a fireplace and ensuite bathroom.
The Cinemaholic estimates that the Access Hollywood host is worth $1 million and notes she has expensive diamond jewelry to prove it. No surprises here. Hall  loves excuses to put it on: i.e. she lives for awards seasons, when she told Indy Star, she gets to "feel like a princess." It most definitely doesn't hurt that she gets to dress the part, too. The Emmy-award winner is regularly singled out for her fashion-forward, hella-expensive looks (via NBC). Not that she has all of her awards dresses hanging in her closet. She once described her wardrobe selection process to Teen Vogue this way: "We have an in-house stylist [that] pulls all of our gowns and dresses based on what our personal styles are … The exciting part is being a princess for a day and planning this big red carpet moment where you'll be photographed and be able to share a little bit of your style with the public."
The surprising thing Zoe Hall did every day to prepare for the entertainment industry
Zuri Hall grew up with goals. It's not only that she envisioned becoming a national T.V. personality before the age of 25. She achieved her vision, despite the odds, by accepting a job at a New York City cable network Fuse, which was hiring a co-host for a live music countdown show (via Indy Star). Then in 2015, at just 27 years old, Hall landed a job as a correspondent on E! News. Making it in the industry, however, came at a price. In other words, it took some time Hall to enjoy a bubble bath or two. "For a significant chunk of my 20s, it was 'work or nothing!' — which was not ideal for my mental wellness," Hall admitted to Authority Magazine. "With so much of my identity and daily life tied to work, it meant that my happiness and mental wellness was extremely linked to if things at the office or studio were going very well or not." 
Even before she started working her way up the ladder in the entertainment industry, Hall wasn't out at rollerskating rinks, or whatever the young kids do these days. She was preparing for her future profession the best way she knew how to. "I would walk to the library every day and look up books on acting and the entertainment industry," the entertainment reporter told Indy Star. Even before that, Hall was practicing her production skills: writing plays and putting on auditions for them from her front porch (via Authority Magazine).
A passion for food
What does Zuri Hall do when she's not concentrating on career goals? Eat, for one. Hall regularly advertises her passion for eating and cooking on her Instagram page, where she's described herself as an "'extra cheese & all-the-carbs'-loving Gemini" (via Instagram). Apart from her previously disclosed love of Hot Cheetos, the "Access Hollywood" host is a pizza person, who's love language might be "leave the last slice of pepperoni untouched for me" (via Instagram). The T.V. personality's recipe for break-up blues, on the other hand, includes chocolate, champagne, and macaroons (via Instagram).
So (no judgment, here) you want to eat like Zuri Hall for a day?  She once described her diet to Authority Magazine. "I'm big on all the pasta … and so. much. wine. Oh and just about every variation of meat & potatoes you can think of." While Hall might try to eat "light and lean" on days she's going to go unhealthy for dinner, that doesn't mean she won't ad a bit of parmesan cheese to her kale salad and grilled chicken. "I don't deprive myself of anything I truly want," she said.
Zuri Hall is an Alpha Babe
Zuri Hall is an Alpha Babe. And by that, she means this. She's an "unapologetically ambitious and mindful Millennial woman, who is designing a life she loves, and leads." As Hall told Paper, "we can be smart and sexy; strong and soft; a hardworking badass and a self-care connoisseur." In 2016, she started a lifestyle platform by the same name, which she used to pass down career, life, and self-care advice to her followers. Take, "5 Quick Tips to Get Over a Case of the Mondays" (via Twitter), or "The AlphaBabe's Guide to Networking" (via Twitter), or "Think you and bae are the next Bey and Jay? Check out these traits all power couples should have!" (via Twitter). Hall revamped her platform in 2020 on Instagram. And while, at the time of this writing, AlphaBabe (the platform) seems to have gone dormant again, that doesn't make her title any less accurate.
Like Paper pointed out, part of being an Alpha Babe means that Hall lends her voice to the causes she cares about: from breast cancer awareness issues to the NAACP, to (as she told the magazine) "advocating for and being a part of the more recent Black Live Matter TV coverage at 'Access Hollywood.'" Other than Oprah, that media personality has had strong female mentors to guide her. Take, for example, acting legend Cicely Tyson, who Zurey Hall once asked 'what her secret to being '92 & FINE' was." Cicely, per Hall's Instagram account of the event said, "I still LIVE my life!!." Amen. Over and out.
Source: Read Full Article