Westside Gunn Asks for Prayers as He's Rushed to Hospital Following Emergency Health Scare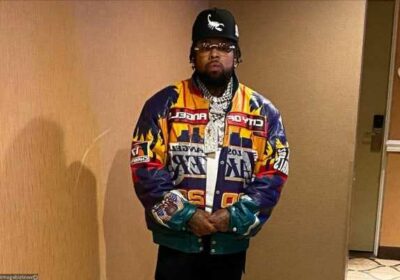 The 'Butcher and the Blade' spitter's latest health scare comes around two months after fellow Griselda rapper Benny the Butcher was hospitalized due to asthma.
AceShowbiz –Westside Gunn was rushed to hospital after an emergency health scare. Revealing that he had to call EMTs because he couldn't breathe, the "Butcher and the Blade" spitter asked his online followers for prayers.
Taking to Instagram Story on Tuesday, December 21, the 39-year-old emcee shared a picture of him on a stretcher with EMTs surrounding him. Alongside the snap, he wrote, "Pray for me they had to call for emergency. I couldn't breath, it's under control now but otw to hospital. 2x this month."
Many have since sent out their prayers for the Griselda Records founder. "Prayers to him I remember he said he had Covid last year this might be the other strain," one penned, with another adding, "His s**t been f**ked up since he got covid prayers up to him."
It remains unknown what happened to Westside. In 2020, he went to a hospital after testing positive for COVID-19. "I have a confession to Make I'm a Corona Survivor," he divulged on Instagram in April. "I didn't want anybody feeling sorry for me I had to thug it out for weeks I didn't get to see my kids I went to the hospital feeling like I was breathing my last breath the fans and the love I was getting kept me strong."
"I went on Tidal live and Fat Joe live but soon as I was done I was right back on the breathing machine," he continued. "Today is the first time besides the hospital that I'm about to go outside in a month thx to the ppl who did know and held me down now I'm about to go harder than I ever have that s**t tore me up inside I literally thought I was dead designing these clothes and @virgilabloh having my back and @djpremier sending me a beat kept me motivated."
Westside's latest health scare came around two months after fellow Griselda rapper Benny the Butcher was hospitalized. In late October, he announced that his show at Detroit's Saint Andrew's Hall would be postponed due to his medical issue.
"Due to a non-COVID related medical emergency, tonight's 'Benny The Butcher' show at Saint Andrew's Hall will be postponed to a TBD date that is being worked on as we speak," he declared on Instagram. "Hang on to your tickets and we will notify all ticket holders of the new show date as soon as it is confirmed."
Offering more details about Benny's condition was his representative. The spokesperson told Complex at the time that he was hospitalized because of asthma, saying, "Every now and again, it requires medical attention."
Source: Read Full Article