'We're f*****!' Chris Packham questions 'democracy' following Sunak v Truss debate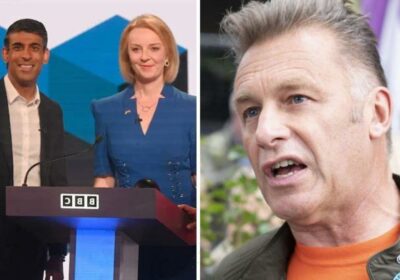 Rishi Sunak 'has to catch up quickly' says Chris Mason
We use your sign-up to provide content in ways you've consented to and to improve our understanding of you. This may include adverts from us and 3rd parties based on our understanding. You can unsubscribe at any time. More info
Chris Packham, 61, has taken to Twitter in a rant against "democracy" following last night's televised debate between Rishi Sunak and Liz Truss. The Springwatch star also slammed the final two Tory leadership candidates for apparently ignoring climate change issues.
He posted an aggravated message out in full view of his 561,700 followers.
The star then went on to tag Deborah Meaden in the post for support.
He referred to the debate as a "wretched fiasco" before calling for system change.
Chris wrote: "We're ****** and we don't even have a say in it – none of us. So why is this wretched fiasco on
@BBCOne? Democracy? There's none.
READ MORE: Stacey Solomon and Joe Swash have married in 'joyous' ceremony
"We are being brutalised by buffoons. We so need system change now. We are in trouble – big , big trouble . @DeborahMeaden."
It comes after the leadership candidates went head-to-head on Monday evening during a debate in Stoke-on-Trent broadcast on BBC One.
It marked the first time the two rivals have been pitched against one another, as their other rivals have been eliminated from the contest.
The debate was broadcast before Tory members vote to select the next Conservative party leader – and the UK's Prime Minister.
Following the tweet, Chris' followers were divided about his opinions on the matter.
@JannerJE called out Chris for his support of the Labour Party as being hypocritical.
The user said: "Like we had a say when Labour stitched up moving from Blair to Brown?
"Oh, & by the way, WE are still paying for Brown's – LABOUR's – raid on pensions & his ludicrous payment scheme for green energy."
Meghan and Harry's appearance 'paint a thousand words' claims host [NEWS]
David Warner dead: Titanic and Omen star dies aged 80 [LATEST]
Paul O'Grady inundated with support after falling ill [BREAKING]
In support of Chris, @Bevpatcat said: "What amazes me is that it seems to be taken as read and is not up for discussion let alone change.
"Anyone can join the Tory Party for £25 and vote for the leader, including foreign nationals or expats.
"Not democratic. If a party has a new leader mid-term, a G E must be called."
In a further Tweet, Chris criticised the politicians' responses to climate change. He said: "My throat is sore. I've never , ever shouted so much at a TV in all my life .
"The poodles left the kitchen. And sanity, integrity and hope left with them.
"Hopeless. Literally. The world is actually dying and they're still in the playground @DeborahMeaden @GaryLineker."
@EmBeeJeffrey said: "It's because the sun is expanding. It has NOTHING WHATEVER to do with the Earth or the people on it.
"I thought you were supposed to be an expert naturalist?"
Source: Read Full Article