Wendy Williams Looks Ready to Make a Comeback Amid Reports She's Living 'Lonely' Life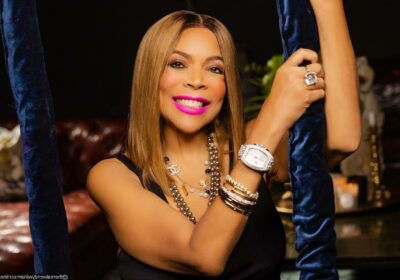 The former daytime TV queen is seen better than ever amid claims that she rarely speaks to her friends and that her pals doubt her promised podcast will ever launch.
AceShowbiz –Wendy Williams is seemingly ready to make an epic comeback. The former daytime TV queen looks better than ever during an outing in New York City amid reports she's living a "lonely" life.
The 58-year-old star was snapped out and about on Thursday, February 2 with her bodyguard. For the outing, she looked fashionable in a tan fur coat that covered her body and her head.
Though Wendy's face was only slightly visible as she donned the pom-pom trimmed cowl atop her dome, she was all smiles during the outing. The former "The Wendy Williams Show" host also added a touch of glamor to her outfit as she covered her eyes with pink rhinestone-trimmed sunglasses.
Earlier on Thursday, a source close to Wendy spilled to The Sun that she no longer sees any of her friends. "She's been calling people saying like, 'Hey, let's have dinner,' but she's acting like all this time hasn't passed. It's this out-of-the-blue call with no update on how she's doing or anything. When she reaches out, she acts as if we went out to eat last week," the insider shared.
"When you finally do get her to give you an update about how she's been she goes off into these tangents about being single, looking for love, and all this other stuff," added the so-called source.
A separate insider who claimed they're close to Wendy said that on Wendy's podcast website, there is an open call for random people to sign up to be a guest on her yet-to-be-seen show. "This sign-up form for random people to appear on her podcast is a little strange," the informant said, adding they haven't heard about anything regarding Wendy's new podcast coming to fruition with any major audio show producers.
However, Wendy's publicist quickly debunked the reports, noting that the podcast is "coming soon." The representative stated, "Wendy's podcast is coming to life and is in its planning stage. Wendy is enthused to get out there and is building a product that is precise and exemplifies her and the needs of her fanbase. All good things take time!"
Indeed, it's been a tough go for Wendy over the past year. A financial guardian officially took control of her finances back in May following a myriad of health issues. She also officially lost her iconic daytime talk show "The Wendy Williams Show" to Sherri Shepherd's "Sherri" in June last year.
Fortunately, things are seemingly getting better as a few weeks ago Wendy said she's "happy to be here" after enduring a challenging year. She shared the thought as she took to Instagram to announce the launch of a range of merchandise ahead of her forthcoming podcast "The Wendy Williams Experience".
The post included a video featuring Wendy in her mansion as she sat on a couch. In the clip, she said, "Hey! Happy holidays! 'Tis the season for the winter. Listen don't forget to check out your favorite Wendy Experience merchandise. I don't know what else you're doing. I'm just happy to be here and to be, well, happy to be here."
You can share this post!
Source: Read Full Article