Vanessa Feltz has 'got a few toy boys lined up' after Ben split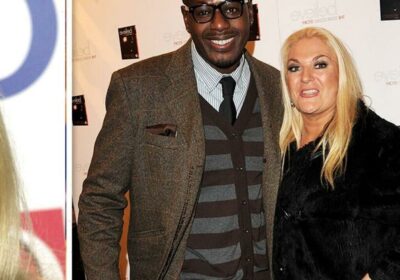 Lizzie Cundy has revealed she's going to help out her heartbroken friend Vanessa Feltz, 61, following the presenter's recent split. The former footballer's wife said she's "got a few toy boys lined up" for the This Morning star after she discovered her ex-fiancé Ben Ofoedu's, 50, infidelity.
Ben admitted cheating on her with an older woman in Ibiza and sexting fans.
"But Vanessa needs to remember life can begin again, at any age," Lizzie told Closer magazine.
Vanessa's former fiancé claims he cheated on the TV star because she wouldn't marry him.
Ben revealed he had sex with an older woman in Ibiza as he felt so insecure about the Big Brother star's reluctance to walk down the aisle.
The Phats and Small star said: "Over a short period of time we had sex three times.
"It was purely sexual, there were no feelings involved. It felt like a chore.
"I just fell back into it with her to keep her sweet and everything under wraps."
Reflecting on his infidelity, Ben explained to The Mirror: "I should have got some help after the first dalliance.
"I knew there was an insecurity. But I papered over the cracks and if you don't tackle something it reared its head.
"I cheated because I was insecure.
"The girl in Ibiza said things like, 'You're such a great guy. I don't know why you're not married. Who wouldn't want to marry you?'
"That coupled with alcohol was a recipe for disaster. It was a volatile situation. That's why that happened."
DONT MISS:
Rod Stewart's son surprises family with Las Vegas wedding (PHOTOS)
Ronnie Wood's ex stays close to him as she 'didn't do anything wrong' (NEWS)
James Bond hopeful Rege-Jean Page wows at BAFTAs after fall (LATEST)
Taking to Instagram on Saturday, the ITV agony aunt shared a clip of herself at the beach in Ireland with a stone, engraved with the word 'change', which her grandson had found for her.
"You wouldn't believe this," she began.
"I'm on the stoniest of stoney beaches, and look what my grandson just found," she said, holding up the impressive rock with a large spade.
"It's a stone saying, 'change', on it. I feel as if it's a sign!"
Vanessa's daughter Allegra Kurer previously told how the family were devastated to learn of Ben's behaviour.
Allegra, 37, and her younger sister Saskia, 34, discovered the awful messages over the festive period and knew they had to tell their mother.
She told Daily Mail: "It was on Christmas Day, of all days. We were all together as a family, but Ben was away in pantomime when the messages appeared via Instagram.
"Until that moment we were having a really lovely time, the children were having a lovely time, so for us to just receive that via a social media account was the most dreadful shock.
"It was anonymous, and of course, it revealed lots that we didn't know — but it was also very abusive and extremely hurtful."
Allegra said it was "horrible" when the time came to tell Vanessa about the messages.
Source: Read Full Article