Um, So Apparently Rihanna Hires Lookalike Models to Try Out Eyebrows Styles and See If She Likes Them
Just in case you weren't convinced that Rihanna is the baddest bitch in the game (the woman literally dressed like the pope at the Met Gala this year and recently turned down the Super Bowl Halftime Show), I'm here with a reminder that the pop star is all-around goals.
In an interview with ET, Rihanna's eyebrow artist Damone Roberts revealed that RiRi has the most diva/amazing behavior when it comes to getting her brows done. Apparently, she has him try out the looks on models and then send her the images so that she can decide whether or not she wants the style done on her own face.
According to Damone, "This year we first met for the Met Gala and she wanted to lighten her eyebrows…she has a lookalike model come by your space and you try out different looks on the eyebrows on the model and you send pictures to Rihanna and she decides whether she wants to do it or not! So literally a lookalike model we trialed and tried and everything else until we got them perfect and we sent Rihanna the pictures."
Guys, she hired a LOOKALIKE MODEL because she didn't want to/have to go into the appointment herself. Can you imagine how useful that would be to have a fleet of lookalike models to like, do your clothing shopping when you're too lazy or to try out a bunch of different haircuts if you can't decided? Amazing. Rihanna, I bow down.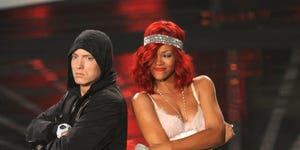 Source: Read Full Article