Tyler Lepley and Miracle Watts Reenact 'The Notebook' Scene in Pregnancy Announcement Post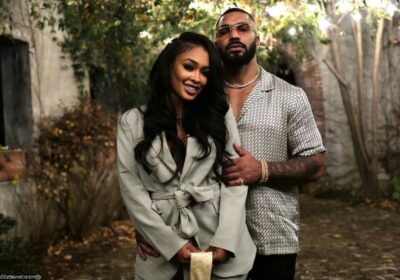 The 'Haves and the Have Nots' actor and the social media personality play a couple who fights a lot, but loves harder in clip that also reveals her baby bump.
AceShowbiz –Tyler Lepley and Miracle Watts are soon-to-be first-time parents. The actor and his girlfriend are expecting their first child together and they have gone the extra mile to share the news.
The "P-Valley" star and the social media personality reenacted a scene from "The Notebook" in the pregnancy announcement post. In a clip posted on her Instagram page on Monday, May 16, the twosome pretended to be a couple who fights a lot, but loves harder.
The video begins as Tyler and Miracle have a verbal fight near a car. While the model appears to have had enough of their tense arguments, he convinces her that he wants to stay in this together regardless their differences because they love each other.
The two then drive off in the baby blue convertible with the wind blowing Miracle's hair like a scene from romantic movie. They later get off the car, revealing the pregnant star donning a two-piece yellow crop top and skirt that put her baby bump on display.
Miracle simply captioned it with "A LOVE STORY," while Tyler shared a cut of the video on his Instagram Story. The couple has since been showered with congratulatory messages from her friends and followers.
Model Raven Tracy exclaimed, "Omggggg!!!! Miracleeeeee!!!! congratulations so beautiful!!! Congratulations!!! I'm so happy for you boo! You deserve this!" Eliza Reign wrote in the comments, "Congrats babe."
"Im so happy for you," another echoed the sentiment. Another user wrote, "OMG this is so cute I can't!!! Congratulations." One other person commented, "Yesssssssssss I'm excited for you," while someone else gushed, "Omg. Congratulations mommy. I did not expect that when watching this video. You look so beautiful omg I'm so happy for you agh."
Tyler and Miracle confirmed their relationship at the end of last year. While the baby will be Miracle's first child, the actor, who is best known for his portrayal of Benjamin "Benny" Young on Tyler Perry-produced prime time soap opera "The Haves and the Have Nots" on OWN, already has two children from his previous relationship with his ex-fiancee, talent agent April King.
Source: Read Full Article