Tristan Thompson Ridiculed Over Hilarious Scene From 'The Kardashians'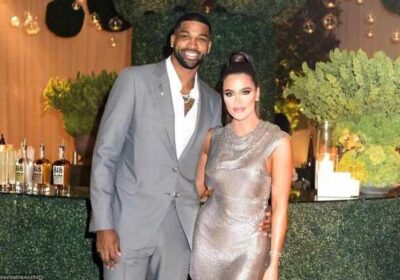 The NBA star, who broke up with Khloe Kardashian following his paternity scandal, looks as if he's seen a ghost after Kim calls the Good American founder to see something on her son's iPad.
AceShowbiz –Tristan Thompson recently became the butt of the joke on the Internet. Many social media users poked fun at the NBA star over his hilarious expression in a clip from the first episode of "The Kardashians".
The said footage saw Kim Kardashian calling Khloe Kardashian as she wanted to show the latter something on her son Saint's iPad. However, Tristan, who sit near Kris Jenner's boyfriend Corey Gamble, looked terrified.
People on the Internet couldn't help but laugh at Tristan's face. "When Kim was showing Khloe the iPad with Saint's game you could see Tristan 100% thought he got caught for the 88th time," one Twitter user quipped, referring to the athlete's infidelities. Another commented, "The way he in Cory locked eyes I can't handle it."
"His spirit left his body for a couple of sec to check the iPad just to make sure," a third individual jokingly said. Someone else then chimed in, "All he saw were sex scenes with random women, pregnancy tests and occasional basketball courts."
It was safe to assume that the scene was filmed prior to Tristan's paternity scandal. In a recent interview with USA Today, Khloe divulged that she learned of it from her sister while filming the new Hulu series.
"I think the first time it was either [Kendall Jenner] or [Kylie Jenner] that called me. Now it's good old Kim," the Good American founder, who shares 4-year-old daughter True Thompson with Tristan, recalled. However, the mother of one claimed she was "numb" upon hearing the news.
Tristan made headlines at the end of 2021 after Maralee Nichols claimed that he fathers her child. The basketball player initially denied the claims and allegedly even tried to silence her with money. He eventually acknowledged that he's the father of Maralee's child following a DNA test.
Source: Read Full Article