Travis Kelce's ex Kayla posts cryptic message as Taylor Swift romance heats up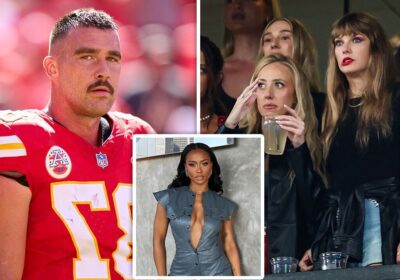 As Taylor Swift's romance with Travis Kelce appears to heat up, his ex Kayla Nicole has posted a very cryptic message on Instagram.
The influencer, who dated the Kansas City Chiefs player on and off for five years, re-shared a message from an Instagram account reading: "For the ones JUST watching to see if I'm going to make it.. I AM."
She added the phrase: "Spoiler alert."
Kayla also attended plenty of Chiefs games while dating Kelce and was a friend of Brittany Mahomes, the wife of Chief's star quarterback Patrick Mahomes.
She was even a bridesmaid at their wedding last March, but as of Monday, Kayla appears to have unfollowed Brittany on Instagram.
Brittany has spent plenty of time with Swift over the last few weeks.
Nicole's cryptic message and WAG unfollows come as it's been reported the Shake it Off hitmaker has jetted out to New York City the day her rumored new beau celebrates his birthday.
Travis turns 34 on Thursday, but it remains to be seen if the songstress will be surprising him in any way.
Taylor's luggage was seen being packed into a vehicle waiting outside of her apartment in Tribeca, numerous insiders told Page Six.
DON'T MISS…
Taylor Swift seemed like a 'teenage fan girl' while cheering for Travis Kelce[UPDATE]
Taylor Swift wears $500 jean shorts to watch Travis Kelce – and they've sold out[INSIGHT]
Taylor Swift puts on sexy display as she supports 'boyfriend' Travis Kelce[PICTURES]
We use your sign-up to provide content in ways you've consented to and to improve our understanding of you. This may include adverts from us and 3rd parties based on our understanding. You can unsubscribe at any time. More info
Kelce doesn't have any solid plans in place for his birthday, having already committed to a prior work engagement, a source told the same outlet.
He will be returning to the football field this Sunday when his team takes on the Minnesota Vikings in Minneapolis.
Taylor has been watching Kelce play the last two games and the pair seem to be already smitten.
This comes as Travis has admitted the NFL is "overdoing" their Taylor coverage.
His brother Jason Kelce asked on their New Heights podcast: "Is the NFL overdoing it? Take away your feelings for Taylor Swift."
Travis replied: "I think it's fun when they show who all is at the game.
"I think it brings a little bit more to the atmosphere, brings a little bit more to what you're watching. But at the same time, they're overdoing it a little bit for sure… especially in my situation. I think they're trying to have fun with it."
In response to the podcast the NFL released a statement via People Magazine defending their copious Swift coverage.
Source: Read Full Article