TOWIE's Tommy Mallet hits back at troll who branded his son 'spoiled little rich kid'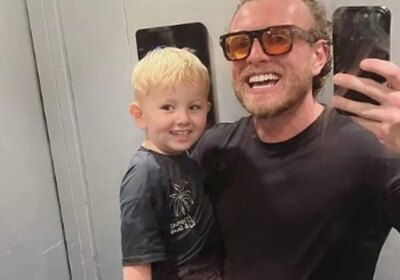 Tommy Mallet has hit back at a nasty troll who called his son a "spoiled little rich kid".
The former TOWIE star, 31, took to Instagram to share a photo two year old son Brody as they went shopping for a Ferrari.
Tommy welcomed his son with fiancé Georgia Kousoulou, 32, in May 2021 and has been enjoying the continued success of his fashion brand Mallet London.
The star took his son to a luxury car garage to see the pricey cars they had on offer, sharing a post of the sweet moment to social media.
In the photo, Brody can be seen in a grey tracksuit as he looks in wonder at a shiny black Ferrari.
In the caption, Tommy wrote: "Makes me so happy my little boy loves some of the things I love.
"This morning I get a video from Georg of him crying saying come home Daddy let's go Ferrari shop!
"I was gassed he wanted to spend time with me and not Georgia for once so dropped everything and went on an adventure!"
He then added: "I'm so grateful to have him! My proudest achievement."
However, not all of Tommy's followers were fans of the post, as one troll wrote in the comments: "Spoiled little rich kid".
In response, Tommy hit back: "yes!!! Can't wait to share everything I worked for with him!!"
He also added: "Ps – your spray work looks terrible, let me know if you want my boy to come round with some crayons to fix it for you".
It's not the first time the family have had to deal with trolls.
Brody's mum Georgia has recently spoken out about the effect online trolls have had on her mental health, saying that in the early days of appearing on TOWIE there were times when she'd have to "turn off [her] phone completely".
Speaking to OK!, Georgia opened up on how it was "scary" bringing up a child in today's digital world and how her big wish is that she can help make the internet a safer place by the time Brody is old enough to use social media.
"I'm a mum now so I'd love change to happen before Brody has access to social media. It 100% needs to have boundaries – there's currently no control over it.
"You can protect your child as much as you can in the real world, but in the social media world, it's impossible. This is why we need all of the social media companies to step up and take accountability."
Source: Read Full Article