Tori Spelling Has 'Major' Marital Issues With Dean McDermott for 'Over a Year'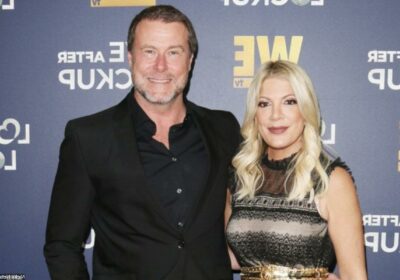 The 'Beverly Hills, 90210' alum reportedly would not talk about sleeping in separate beds publicly if things had been 'great' between her and her actor husband.
AceShowbiz –Tori Spelling's marriage to Dean McDermott apparently has been on the rocks for quite some time. The "Beverly Hills, 90210" alum, who has admitted that she and her husband do not sleep in the same bed, reportedly has had "major issues" with him for "over a year."
Offering more details about the 48-year-old's marriage problems was Us Weekly. "[She] and Dean have been having major issues for over a year now. The fact that she's talking about sleeping in separate beds is very telling," a source told the outlet.
"[Tori] wouldn't do that unless things were really not great between them," the source further claimed. "Tori knows her kids see what she says online, so for her to say something publicly means the end could be very near."
Tori opened up about her relationship with Dean in the June 16 episode of SiriusXM's "Jeff Lewis Live". At that time, Jeff asked her, "What is really going on? You put the wedding ring on. Are things okay? Because I feel like the last time you were here things were good, you were having sex. Are you guys sleeping in the same bed?"
The mother of five, however, refused to give him a direct answer. "You know what, right now my kids and dogs sleep in my bed," she said, to which the host replied, "Okay. So that's a no – so he's in the guest room." She then added, "He's in a room."
The former "Saved by the Bell" star further explained that she and her husband slept separately since he left for work for several months. "Since he left – this is not good, you guys – but since he left, he was gone for six months filming in another country, they all stayed with me," she spilled. "So I currently still have four in the bedroom with me who have yet to go back to their rooms."
Tori sparked split rumors with Dean earlier this month. On June 6, she was seen ditching his wedding ring during an outing with their son Beau. On the next day, she shared a cryptic post on Instagram Story that read, "Don't let someone change who you are, to become what they need." She also removed the word "wife" from her Instagram bio, leaving it to say, "Actress/Mother/Writer/DIYer."
Tori and Dean tied the knot in 2006. Together, they share 14-year-old son Liam, 8-year-old son Finn, 4-year-old son Beau, 13-year-old daughter Stella and 9-year-old daughter Hattie.
Source: Read Full Article