This Steamy Photo Of Mariska Hargitay And Christoper Meloni Has Law & Order Fans In A Tizzy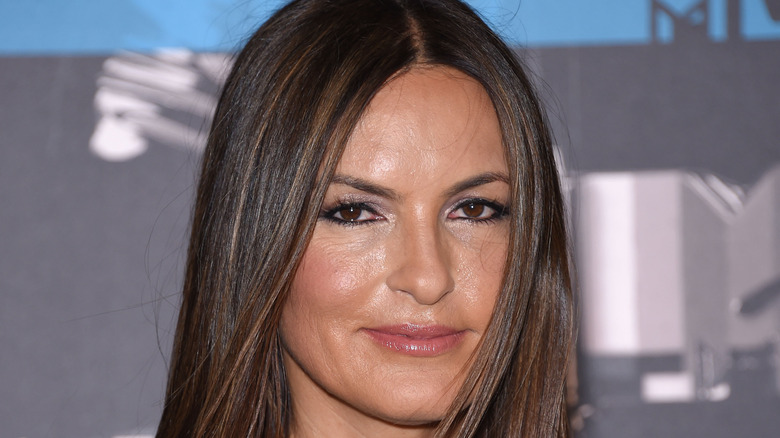 Fans of "Law & Order: Special Victims Unit" were thrilled when Christopher Meloni announced that he would be reprising his role as Elliot Stabler in the new series, "Law & Order: Organized Crime." Even better: He would once again be sharing screen time with Mariska Hargitay – who plays Olivia Benson on "SVU" — as both stars would frequently make guest appearances on one another's shows.
Meloni and Hargitay costarred on "SVU" for 12 seasons until Meloni abruptly left after failed contract negotiations. "I was just so sad, because we started this thing and built it together," Hargitay told People. "And we went through so many milestones and spent so much time together and understood so many things that nobody else could understand." The two remained close friends through the years, however, as Hargitay stayed on the show — and "SVU" eventually became the longest-running drama series in television history. In fact, Hargitay is godmother to Meloni's daughter, Sophia, whom the actor shares with his wife, artist Sherman Williams.
The actors' bond meant that when Meloni returned to the "Law & Order" family, he and Hargitay were able to pick up right where they left off  "It was Pavlovian: Ring that bell, and you get right into Stabler and Benson," Meloni told People, adding that the relationship "is simple. We have each other's back." And for many longtime "SVU" viewers, Stablers' return meant there was a chance that he and Benson would finally find love with one another.
Fans are hoping this photo means Benson & Stabler are finally getting together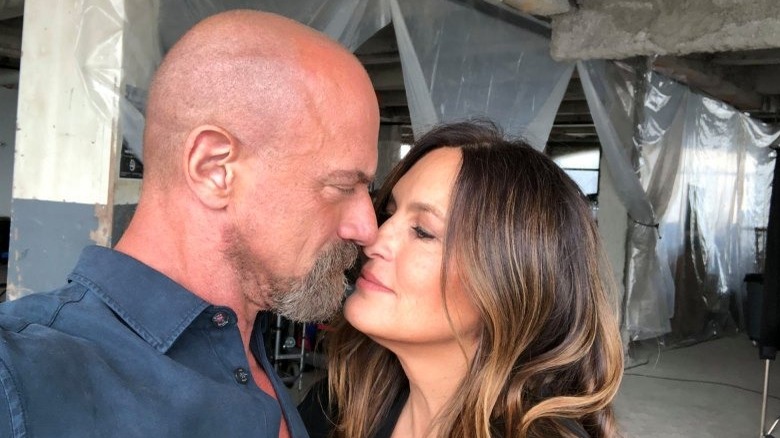 Ever since Christopher Meloni announced he would be reprising his role as Elliot Stabler in "Law & Order: Organized Crime," many longtime "SVU" viewers have been hoping that his return would mean Stabler will finally find love with his former partner, Olivia Benson. Meloni seemed to tease just that, posting a steamy photo of the two of them on Twitter looking like they're leaning in for a kiss. He accompanied the pic with the caption, "#rehearsing what @Mariska?"
Hargitay then responded with "Are you blushing? It's getting hot in here," with a fire emoji (via US Weekly). Fans went wild, with one tweeting, "OMG. Let this happen. I have waited years…Love them. Xx," while another wrote that the photo was "the hottest thing I've seen since the 2020 Presidential election results."
As for when and if their characters will actually get romantic, Meloni admitted that Benson and Stabler definitely have "issues" they need to work out beforehand. "I think it's going to require a lot of work, a lot of healing," Meloni said to Entertainment Tonight. "It's a complicated situation, which I think is going to make both series better."
Source: Read Full Article