The Untold Truth Of Shaun Robinson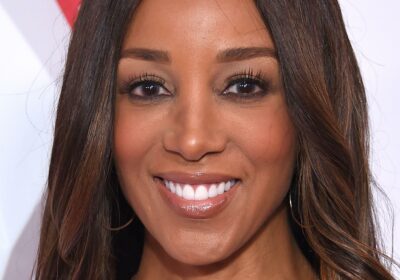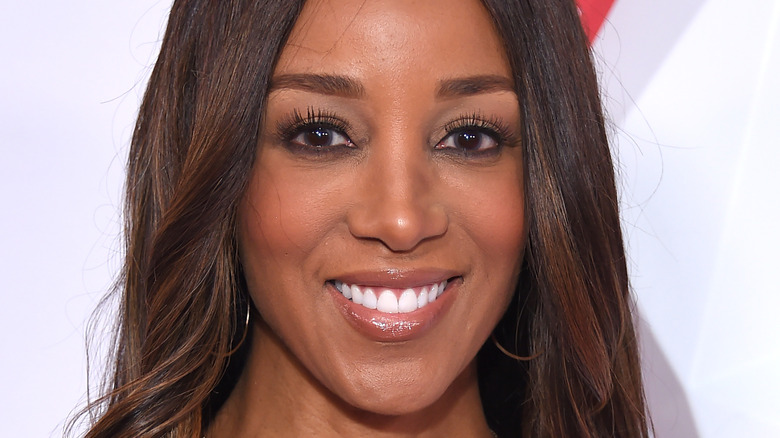 Shaun Robinson is an Emmy-nominated journalist who hosted "Access Hollywood" for over 15 years. She emerged from Detroit to attend Spelman College, an HBCU in Atlanta, as noted on her website. But, upon graduation, she returned to her hometown to begin a career in journalism. On her way up the journalism ladder, she landed in Hollywood, putting her in a position that would catapult her into living rooms across the country.
Not long after her departure from the entertainment news show, TLC tapped her to host the reunion episodes of one of the network's most controversial series, the "90 Day Fiancé" franchise. For years, as seen on her IMDb page, Robinson has sat down with couples who have found love across continents, while working on her own entertainment ventures. And while you may recognize her from her on-air appearances, there are some things you have yet to learn. Keep reading for the untold truth of Shaun Robinson.
Shaun Robinson is an actress as well as a journalist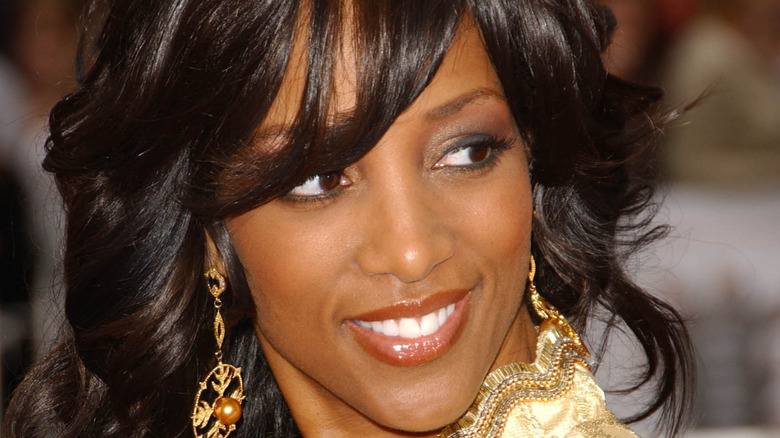 It's well known that Shaun Robinson is a multiple award-winning broadcast journalist, but she has also stepped into fictional roles on television and in movies. In her first scripted appearance, she played a reporter on the Lifetime television show "Any Day Now." Her first role on the big screen was in another familiar role as a newscaster in the Eddie Murphy film "Dr. Dolittle 2." Her next few roles were more of the same, with cameos and minor roles playing herself.
In 2019, Robinson snagged a role as a series regular on the BET scripted series "Games People Play," produced in part by her friend Tracey Edmonds. She told Shadow and Act she was excited to join the cast because it was her "first recurring role on a scripted series." However, when Edmonds offered her the role, Robinson had one condition: She did not want to play another role as a reporter, having played that part multiple times in real life and in fiction on screens large and small. To her satisfaction, she signed on to play Kris Kensington, the vice president of a media company. 
Having spent years in the industry, Robinson didn't have to look far for inspiration. To embody the character of a media conglomerate VP, Robinson took inspiration from a producer she formerly worked with on "Access Hollywood."
This celebrity inspired Shaun Robinson to leave Access Hollywood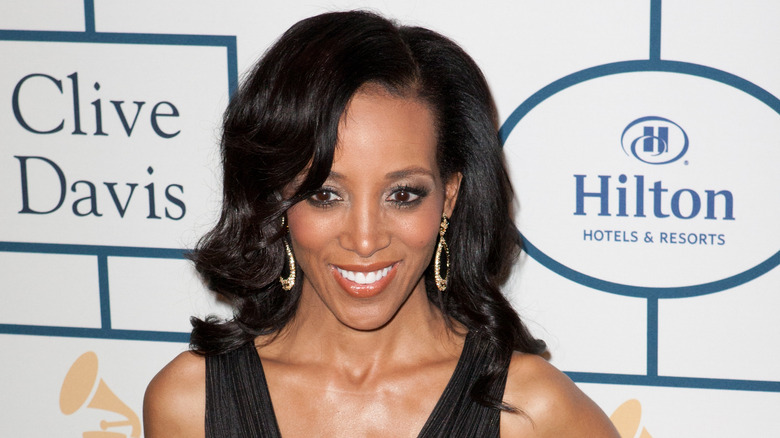 Leaving "Access Hollywood," the show she hosted for 16 years, was not a decision she made lightly, but Shaun Robinson had big goals she wanted to achieve, including starting her production company, Robinhood Productions. In 2015, she told the New York Post that, three years before her father died, she considered leaving "Access Hollywood" to pursue those goals, but a friend convinced her not to. However, after his death, Robinson reflected on his outgoing answering machine message that reminded callers to "have a great day and remember to be happy." The message led her to the realization that "life is short," and it was "time" to go for it.
The previous year, Robinson also received inspiration during a conversation with "Scandal" actress Kerry Washington. During their chat, Washington told the journalist about how she took a chance on television, which worked out in her favor. Their tête-à-tête encouraged Robinson to chase her dream. She told People (via The Wrap), "The conversation really resonated with me and inspired me to just go for my dreams and take that leap of faith."
Shaun Robinson is branching out in show business as a producer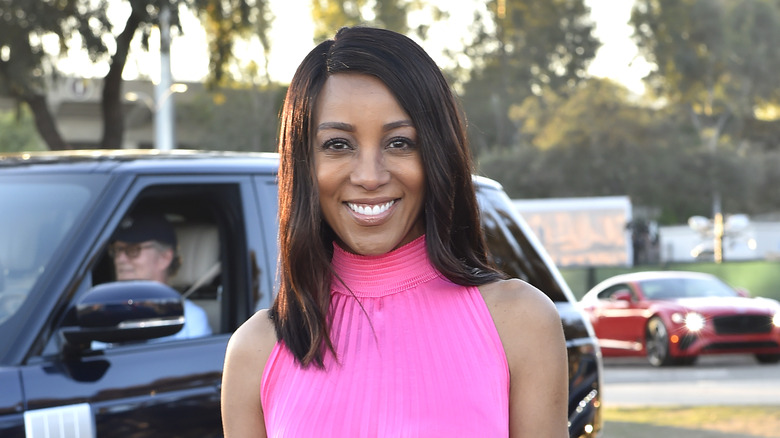 Shaun Robinson is used to being in front of the camera, but now she's taking on a role behind the camera. When she left "Access Hollywood," she had her sights set on starting her production company, Robinhood Productions. Her dream became a reality as she worked with Lifetime as an executive producer for two made-for-TV movies based on the seven deadly sins, "Lust: A Seven Deadly Sins Story" and "Envy: A Seven Deadly Sins Story."
Like many people with big aspirations, Robinson used a vision board to help manifest her destiny. And, with hard work and determination, she's finally seeing the fruits of her labors. She told the Metro Times, "I know when I see my name on my screen when these movies air, I am going to be screaming."
In a tweet before the movies were set to air, Shawn expressed her excitement for her new position, sharing a photo of herself during the filming of a video. "Video shoot for my new role as Executive Producer of the upcoming
@lifetimetv movies #LUST and #ENVY. We talked about the need for giving more women the opportunity to become filmmakers and the unique perspective that women bring to filmmaking," she wrote in the caption. "I can't wait to bring these movies!"
Philanthropy runs in Shaun Robinson's family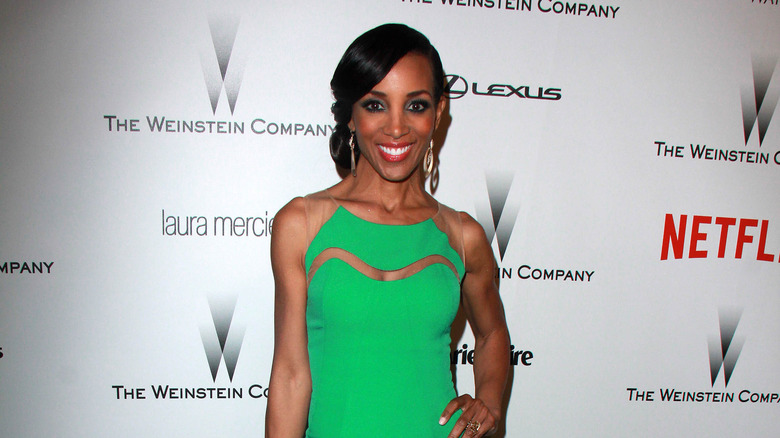 From a young age, Shaun Robinson heard the call to help others. When she was a child, Shaun Robinson accompanied her grandmother as she donated blood. "Grandma was a philanthropist," she said in her profile for Women Moving Millions, noting, "There was a call by the Red Cross for people to help and Grandma answered that call with her life's blood."
Robinson's parents also taught her the value of community service. She told Lifestyle Today, "My parents and grandparents always told me if god gives you a platform, use it to give back, and so that's what I'm doing." When she started her non-profit organization, the S.H.A.U.N Foundation for Girls, in 2016, she took their advice to heart. The foundation helps provide grants to fund grassroots nonprofit organizations that support young girls. Although the name of the organization, S.H.A.U.N, is, on the surface, Robinson's first name, it's also an acronym for the areas of focus for female empowerment. "S for STEM, science, tech­nology, engineering and math; H for health; A for the arts; U for unity … and N for neighborhood," Robinson explained to PND.
Shaun Robinson is helping in the fight against human trafficking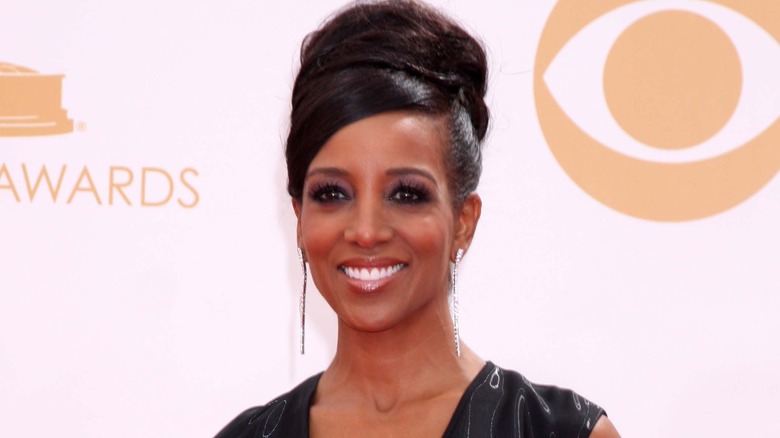 With the increased spotlight on human trafficking around the world, Shaun Robinson has taken a special interest in helping bring attention to the issue. With her nonprofit, the S.H.A.U.N. Foundation for Girls, Robinson hosts panels with other female celebrities and activists fighting to prevent human trafficking, as shared on the S.H.A.U.N. Foundation's website. During the panels, she and the guests discuss the risks that make it possible to become trapped in human trafficking situations and ways to prevent themselves and others from becoming victims.
While searching for nonprofits to work with, she learned about an organization in her hometown of Detroit, Michigan called Alternatives for Girls that rescues women and girls from human trafficking. She even took time and prepared survival kits for the nonprofit to help comfort the women in their escape from traumatic situations. In an Instagram post about the kits, she wrote, "There are so many people struggling right now and we all can do our part to add a little sunshine into someone else's life."
If you or anyone you know has been a victim of sexual assault, help is available. Visit the Rape, Abuse & Incest National Network website or contact RAINN's National Helpline at 1-800-656-HOPE (4673).
What Shaun Robinson has to say about the state of journalism today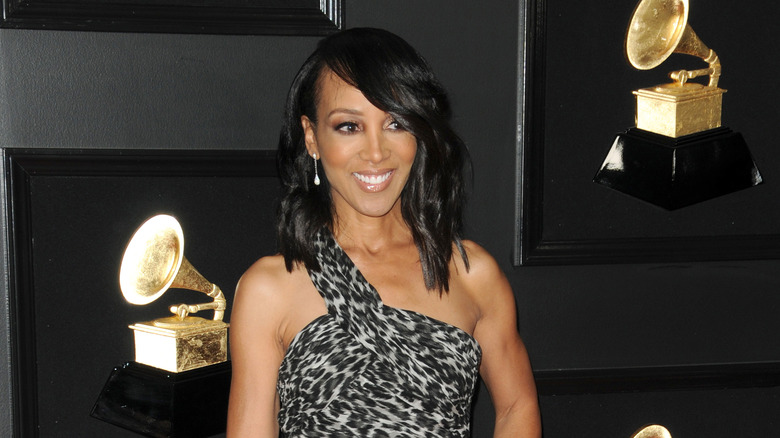 As a veteran journalist, Shaun Robinson comes from a generation that holds themselves to rigorous standards of journalistic integrity, and she spoke about journalistic standards in the age of internet journalism to Shadow and Act in 2018. "Unfortunately, today there is just this rush to be first without with very little regard for the accuracy of stories," she said.
The relationship between politics and journalists has changed since Robinson's entry into the field of journalism, and she has taken notice. During the same interview, she also expressed her sympathy for the way women journalists of color were treated by the Trump administration. "I have felt for my sisters out there in the field who have been attacked just for doing their job," she said. "They're not only attacked by the person that they're interviewing, but having to go home and worry about personal and physical attacks from people who listen to those who were spewing that rhetoric."
Shaun Robison doesn't accept being told no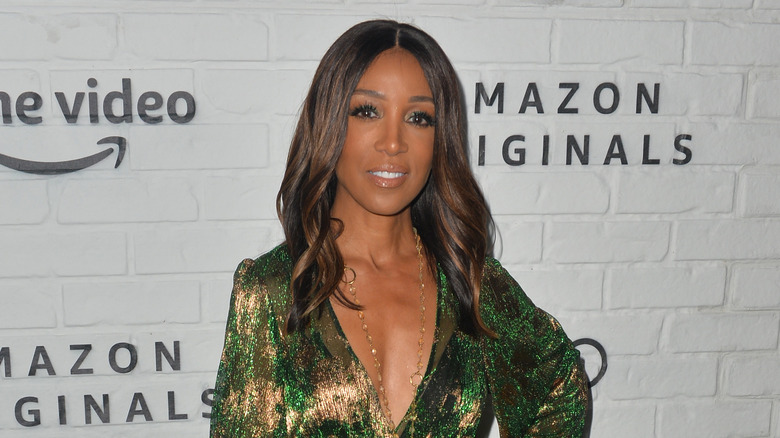 Early in her career, Shaun Robinson faced adversity, from unwanted advances and retaliation from her boss to her attempts to elevate her community through positive reporting being shot down — and even being let go with a short window to find another job! Still, she managed to remain focused and strive for what she wanted. She told Forbes, "I've always had detractors. I've learned to drown out the noise, stay centered and persevere! Sometimes it's a game of who's the last one standing. You've got to just keep trying!"
During an interview at 2020 MLK Dream Luncheon (via HBCU Connect), Robinson said she was told "no" often throughout her life, but she's never let that keep her from making her achievements. Her goal is to uplift and inspire instead of telling anyone they can't achieve something. "I make sure that never tell somebody that they can't achieve something because I know how it affected me," she shared, adding, "So I make it a point to always try to be encouraging to other people."
Shaun Robinson had a health scare in 2020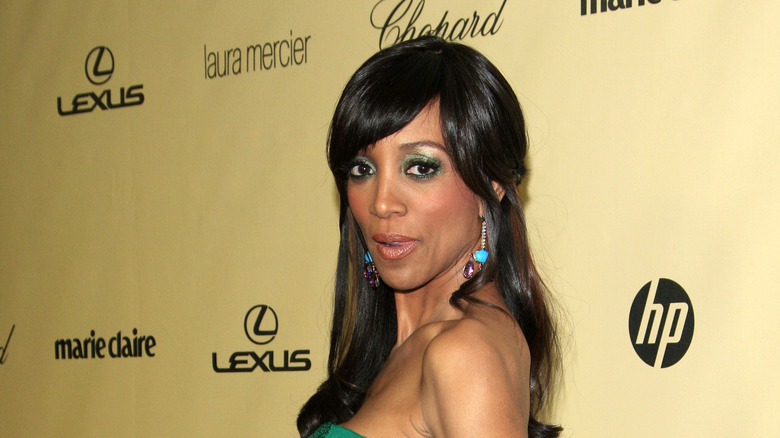 After posting an Instagram story of herself in a hospital bed in 2020 (via Soap Dirt), with a caption reading "Day 3" and the prayer hands emoji, Shaun Robinson shocked fans and the media. Speculations about her health made its rounds on the internet, and after leaving the hospital, she took to Instagram Live to clear up the confusion.
In the video, she explained how she went to the emergency room with a swollen lip caused by angioedema because of an allergic reaction. She remained in the hospital for three days on intravenous antihistamines. Upon leaving the hospital, doctors "had to convince" her to continue taking a daily antihistamine to prevent another allergic reaction. She went as far as having an allergy test, but experts were unable to pinpoint a specific cause of her reaction. She said the doctors informed her she was allergic to histamine, which is a chemical the body creates when an allergen is introduced into the body, as WebMD notes. According to Robinson, it's also in most foods people eat, so it's nearly impossible to avoid. During her live stream, she told viewers, "If I cut out every food that had histamine in it, I'd be down to ice. I'd only be able to eat ice."
After clearing up the reason for her hospitalization, Robinson thanked her viewers for their concern and reminded them to "enjoy" their lives because life is short and unexpected things can happen at any time.
Shaun Robinson didn't have high hopes for 90 Day Fiancé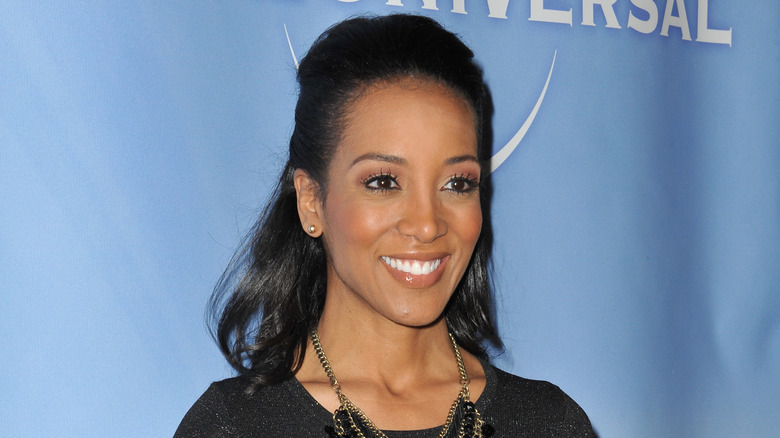 As a veteran entertainment reporter, Shaun Robinson knows what it takes for a television show to have a lasting presence. Her former show, "Access Hollywood," began in 1996 and is still on the air. So, when TLC approached her to host the "90-Day Fiancé" tell-all in 2016, she was skeptical. Robinson had never seen an episode, but after watching a few clips, she predicted it would be over after a season or two. "It turned into something that I don't think anybody ever predicted," she admitted to TV Insider.
Years later, "90 Day Fiancé" has spun off into a franchise with many series with most airing on broadcast television and a couple available exclusively on the streaming platform discovery+. One of the latest incarnations is "90 Day Bares All," during which Robinson sits down the cast to rehash their storylines, dig deeper into controversies, and clear up rumors. And the show gives viewers a glimpse at footage TLC can't air on broadcast TV. Of the show, Robinson told Atlanta Black Star, "It has been fun and sexy. It's racy, and there are so many surprises."​​
This is one of Shaun Robinson's favorite 90 Day cast members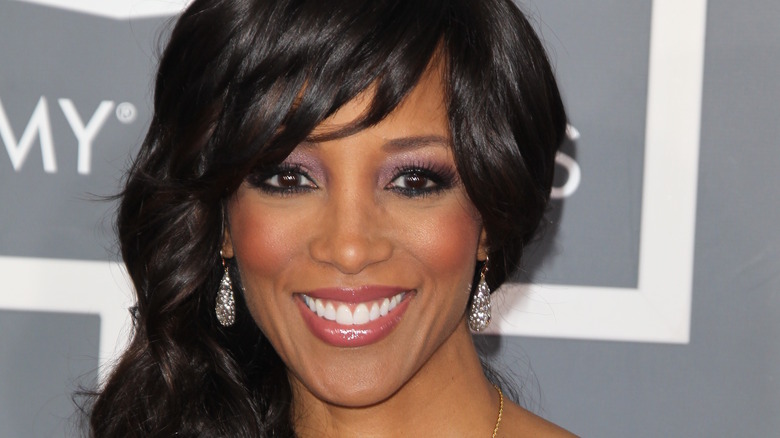 The "90 Day" franchise has produced a few heroes and tons of villains. Shaun Robinson shared some of her favorite cast members with TV Insider, and one of her favorites has been declared a villain by viewers.
If you are a fan of the "90 Day Fiancé" franchise, you're probably familiar with Angela Deem and Michael Ilesanmi. She's a boisterous blond from Georgia; he's a soft-spoken man from Nigeria. The couple met online, and Angela has been a villain on the franchise ever since joining the "90 Day" family. But Robinson doesn't seem to mind. "I love Angela Deem," she told TV Insider, "and people may be shocked by that, but I really do. I see the soft side of Angela, and I tell her that I want her to behave — but I really do love her, and I love that she has found love with Michael."
Robinson also admitted to disliking cast member David Toborowsky, who found love with wife Annie in Thailand, at first. The couple has a 24-year age gap, and Robinson didn't think the two belonged together. However, she's admitted she was wrong about the couple and is glad to see them together, saying, "They are a perfect match, and they are so much fun together."
Source: Read Full Article