The BTS of Vecna's Stranger Things Makeup and Prosthetics Is Truly Wild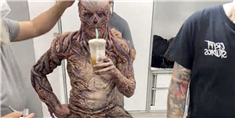 If your interests currently include Vecna, Vecna, and also Vecna, hello and welcome. By now you're likely more than familiar with Stranger Things' season 4 villain played by Jamie Campbell Bower, and it took him legit hours to get into costume.
Variety reports that the Duffer brothers "insisted" Vecna be created from practical effects (in this case: prosthetics and makeup) instead of CGI, which involved a "second skin" for Jamie using "25 pieces of latex and silicone rubber material glued to his body via a medical adhesive." The entire transformation took around 7.5 hours, and before you ask, yes there is an amazing video involving Vecna drinking Starbucks:
can't talk rn, i'm becoming vecna.
[brought to life by barrie gower] pic.twitter.com/1EYf7wcjIy
Oh, and Vecna's creepy voice? Also all Jamie:
How good is Jamie? pic.twitter.com/R5TqsqqbOm
Barrie Gower, the person in charge of creating Vecna's creepy look, told NME that the Duffer Brothers were "very adamant that Vecna be glossy and shiny, that he looked as moist and wet as the rest of the Upside Down," which involved covering Jamie with gel once his prosthetics were on. "The last part of the process was the four of us artists surrounding Jamie and covering him from head to toe in this wet-look gel," he said. "It was basically gloopy lube and meant he was slimy throughout the whole shoot day. It also gave the paint job a really nice ping and made everything look really vibrant."
All told, Jamie shot for 25 days and every day involved the same elaborate process. "It was just this massive production line," Gower said. "We shot 25 days with Jamie and every day needed a brand new set of appliances because when we removed them at the end of the day, we needed to use a mineral oil which destroyed all the fragile, delicate edges where everything overlapped."
I mean, WORTH EVERY MINUE!
Source: Read Full Article