'Terrible Nightmare': Comedian Rickey Smiley Shares Tear-Filled Video After His Son Brandon's Sudden Death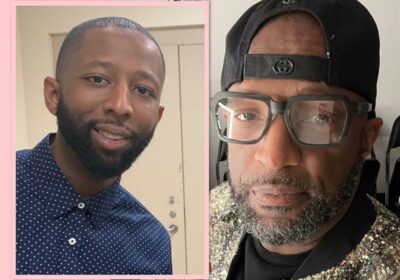 Rickey Smiley is getting real about the unfathomable pain he feels following the death of Brandon Smiley.
As we previously reported, the 54-year-old comedian revealed on Sunday that his 32-year-old son died that morning. A cause of death has not been released at the time. Undoubtedly, Rickey and his loved ones are beyond heartbroken right now. A day after Brandon's passing, the father opened up about how their family has been doing in an emotional video posted on Instagram. With tears in his eyes, he expressed in the clip:
"Today, it just feels worse because yesterday was the shock but today reality is setting in. I can feel it. … Just trying to understand all of this. I feel bad for my other kids. My kids are confused. They don't know what to do. I just never thought I would be a member of an organization where you have to bury your kids. It's a terrible nightmare."
Becoming choked up, The Rickey Smiley For Real star took a moment to collect himself before continuing his message.
He shared that his mother has been rocked by Brandon's death, especially since she texted her grandson just "maybe two hours" before he passed away:
"My mom is here. I've never seen my mother – The sadness in her eyes."
Speaking about how the tragedy affected him, Rickey said he did not cry when he first heard the news due to "shock." But now that he's had a second to start processing what happened, he said it feels like "somebody stomping on my chest and it's just non-stop." He added:
"You ain't even crying and tears are coming down your eyes but you ain't crying. And then you crying and ain't no tears coming down your eyes."
He went on to lament how he "wasn't perfect" but did everything he could for his children over the years, saying:
"I tried to be the best father I can be. I wasn't perfect. I didn't play no games. I just tried to be the best dad I could be. That's all. It is what it is."
While Rickey and his mom are reeling right now, he noted Brandon's death has been very difficult on his 21-year-old son Malik:
"He got his own issues. Fighting to keep him alive. He's fighting to stay alive because he's dealing with a lot, dealing with depression and anxiety."
Our hearts break for the Smiley family right now. We cannot imagine how hard this must be for them. Sending love and light to Rickey and his loved ones as they continue to mourn this loss. You can see the gut-wrenching video (below):
A post shared by Rickey Smiley (@rickeysmileyofficial)
Source: Read Full Article