Taika Waititi Awkwardly Shuts Down Interview Over Rita Ora Engagement Question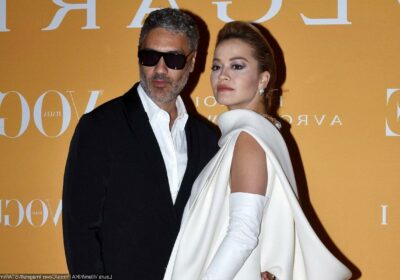 The 'Thor: Love and Thunder' director removes his earpiece and pretends not to hear the question when an interviewer begins asking him about his relationship with the British singer.
AceShowbiz –Taika Waititi isn't taking a question about his personal life, but apparently a certain TV presenter didn't get the notice. The New Zealand-born actor/filmmaker has shut down an interview over a question about his engagement to Rita Ora.
Recently, the "Thor: Love and Thunder" director appeared on "This Morning" with Chris Evans to talk about their upcoming movie "Lightyear". Things went smoothly during the lighthearted conversation about the animated "Toy Story" spin-off until one of the interviewers mentioned Taika's rumored engagement to the British singer/actress.
"Well, we've congratulated Chris on his birthday… so Taika, are there wedding bells?" Philip Schofield asked near the end of the 10-minute interview, prompting Taika to respond, "You can congratulate me! It's in August! Let's talk about my birthday!"
The 46-year-old then removed his earpiece and threw it over his shoulder. "What? Sorry, you're breaking up! Nope, gone!" he said, as his co-star responded with a laugh.
"Shall I not ask about Rita," Philip asked, seemingly not realizing that Taika couldn't hear him anymore. He then ended the interview by awkwardly praising Rita, "Regardless, she's gorgeous, we love her here, she's always a great guest and congratulations!"
Rumors began floating earlier this month that Taika and Rita are set to tie the knot as they reportedly made almost "simultaneous" wedding proposals to each other. According to The Sun, the lovebirds are "preparing a low-key wedding in London before throwing a glitzy celebration later."
"This isn't about them doing a big showy thing and crowing about it beforehand. It's just about them being in love and deciding the time is right to formalise their relationship," a source told the U.K. news outlet. "They couldn't be happier."
The pair were first romantically linked to each other after "The Voice Australia" judge shared a photo of them cuddling up together in April 2021. The twosome made their red carpet debut as a couple later in August when attending the premiere of "The Suicide Squad".
Source: Read Full Article