Stars with milestone birthdays in June 2021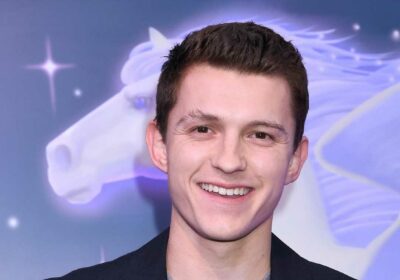 Join Wonderwall.com as we take a look at all of our favorite celebrities who are celebrating milestone birthdays in June 2021… starting with Spider-Man! On June 1, British actor Tom Holland turns 25.
Keep reading for more milestone birthdays this month…
RELATED: Stars turning 30 in 2021
On June 9, Academy Award-winning actress Natalie Portman will celebrate her 40th birthday.
RELATED: Stars turning 50 in 2021
Chris Evans, aka Captain America in the Marvel Cinematic Universe films, turns 40 on June 13.
RELATED: Stars turning 40 in 2021
On June 14, Marla Gibbs — who portrayed Florence Johnston on "The Jeffersons" — will turn 90!
On June 7, model-actress Emily Ratajkowski — who gave birth to her first child with husband Sebastian Bear-McClard, Sylvester, in March — will celebrate her 30th birthday.
RELATED: Stars turning 60 in 2021
"WandaVision" and "2 Broke Girls" actress Kat Dennings — who announced her engagement to musician Andrew W.K. in May — turns 35 on June 13.
"Emily in Paris" actress Ashley Park turns 30 on June 6.
On June 12, former Victoria's Secret Angel Adriana Lima will join the 40s club.
June 18 is a big day for "The Voice" coach Blake Shelton — the country music superstar turns 45!
On June 3, first lady Jill Biden turns 70.
From "Felicity" to "Lost" to "Star Wars: The Force Awakens," writer-director-creator J.J. Abrams has proven he's talented across all genres! On June 27, the New York City native celebrates his 55th birthday.
On June 5, Mark Wahlberg will join the 50s club.
Mary-Kate Olsen and Ashley Olsen, who got their start in showbiz when they portrayed Michelle Tanner on "Full House," turn 35 on June 13.
On June 9, "Back to the Future" franchise star Michael J. Fox turns 60.
"The Office" actress Angela Kinsey, who will next reprise her role as Helaine Kreyman in "Tall Girl 2," turns the big 5-0 on June 25.
On June 21, The Killers frontman Brandon Flowers will sing his way into his 40s.
On June 24, Solange Knowles will celebrate her 35th birthday.
Acclaimed writer-director Aaron Sorkin — who earned a 2021 Academy Award nomination for best original screenplay for "The Trial of the Chicago 7" — celebrates his 60th birthday on June 9.
Swedish actor Stellan Skarsgard, who will next appear in 2021's "Dune," celebrates his 70th birthday on June 13.
Maria Bakalova, who found fame starring in 2020's "Borat Subsequent Moviefilm," turns 25 on June 4.
On June 28, director-writer-actor Mel Brooks will celebrate his 95th birthday.
On June 7, rapper Fetty Wap will join the 30s club.
"To All the Boys I've Loved Before" film franchise actress Anna Cathcart celebrates her milestone 18th birthday on June 16.
"The Secret World of Alex Mack," "10 Things I Hate About You" and "Pretty Little Liars" actress Larisa Oleynik celebrates her 40th birthday on June 7.
T.J. Miller, who's appeared in everything from HBO's "SIlicon Valley" to both "Deadpool" installments, turns the big 4-0 on June 4.
On June 25, comedian and original "The Office" star and creator Ricky Gervais turns 60.
On June 1, "Trainwreck" actress Amy Schumer will celebrate her 40th birthday. The comedian next appears in the drama "The Humans" alongside Steven Yeun and Beanie Feldstein.
"Peaky Blinders" star Sam Claflin, who will appear in the upcoming film "Book of Love" and miniseries "Daisy Jones & The Six," celebrates his 35th birthday on June 27.
June 29 marks "NYPD Blue" actress Sharon Lawrence's milestone 60th birthday.
Tesla CEO Elon Musk will celebrate his 50th birthday on June 28.
Culture Club lead singer Boy George turns the big 6-0 on June 14.
On June 11, former child actor and "Honey Boy" writer and star Shia LaBeouf — who made headlines in late 2020 when he was accused of sexual assault and emotional distress by ex-girlfriend FKA Twigs — turns 35.
From "Say Anything" to "Serendipity," John Cusack has appeared in a plethora of films over the course of his career! He turns 55 on June 28.
On June 6, big cat rescuer Carole Baskinof "Tiger King" fame — who competed on season 29 of ABC's "Dancing With the Stars" — turns 60.
Former President Donald Trump turns 75 on June 14.
Willa Holland, who appeared on television shows including "The O.C." and "Arrow," turns 30 on June 18.
On June 6, "Sierra Burgess is a Loser" actor Brandon Thomas Lee, who's the son of actress Pamela Anderson and rocker Tommy Lee, turns 25.
"Drake & Josh" star Drake Bell will celebrate his 35th birthday on June 27.
"The Hunger Games" franchise actress Willow Shields celebrates her 21st birthday on June 1! She'll next appear in two films: "When Time Got Louder" and "A Fall from Grace."
Singer-songwriter Charlotte Lawrence will soon be of legal drinking age! On June 8, the young star — whose parents are actress Christa Miller and television producer Bill Lawrence — celebrates her 21st birthday.

Source: Read Full Article