Star Wars defends Krystina Arielle amid horrific racial abuse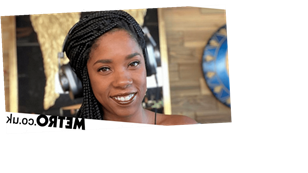 Krystina Arielle has been supported by the Star Wars team after being subjected to horrific racist trolling and bullying on social media. 
The actress was recently announced as the host of the new Star Wars: The High Republic Show earlier this month.
Past tweets from Krystina then resurfaced on Twitter, and featured her speaking out about white people's role in upholding racism. 
In June, Krystina tweeted: 'And I was in such a good mood. White People: You do not get to absolve people of racism. You do not get to point out their "Growth" when they say black lives matter after treating us as if we don't. You don't get to accept apologies on our behalf. That shouldn't need to be said.' 
Since then, Krystina has been subjected to racial abuse and she shared a screenshot of some of the trolling.
One troll sent a monkey and banana emoji, while another accused her of being racist towards white people. In one message, a troll described Krystina as having 'ghetto hair'. 
Alongside the abusive messages, Krystina tweeted: 'We the last 24 hours have been … not the greatest.' 
John Boyega, who starred as Finn in the latest Star Wars franchise, was also brought into the conversation following his claims that he was marginalised by the studio.
They also highlighted the controversy where his Star Wars character was shrunk on the poster in China whereas his white co-stars were not. 
Earlier in January, Krystina excitedly announced she would be hosting the new web series The High Republic Show from January 27. 
She said in an Instagram post: 'Thank you Star Wars for this incredible opportunity to talk about what I love and to explore The High Republic era!!!!' 
Source: Read Full Article