Stacey Solomon 'creeped out' after finding 'bloody' stain in unborn daughter's bedroom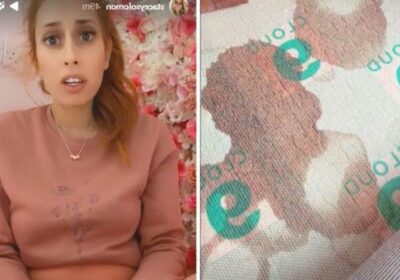 Stacey Solomon 'creeped out' after finding 'bloody' stain in nursery
We use your sign-up to provide content in ways you've consented to and to improve our understanding of you. This may include adverts from us and 3rd parties based on our understanding. You can unsubscribe at any time. More info
Loose Women panellist Stacey Solomon, 31, has taken to Instagram to reveal that she is feeling "creeped out" by a "bloody"-looking stain on the floor of her unborn baby daughter's bedroom. The presenter is currently pregnant with her and Joe Swash's second child together and has been sharing the DIY process behind her little girl's future room on social media.
I really hope someone spilt a coffee up here back in the day, because this is creeping me out

Stacey Solomon
Showing her 4.6 million followers the state of her paint-covered carpet this afternoon, the TV personality started to enthusiastically rip up the floor covering.
She said: "Today is the day that this filthy carpet is going, woo!"
Revealing her newly-painted pink wardrobe, the star revealed that her baby daughter's room would be updated with new flooring.
Alongside the clip, she wrote: "The baby's flooring is going down today, I can finally say goodbye to this carpet.
"I've never been so excited," Stacey added, next to laughing emojis.
However, in the next clip, the Tap to Tidy star revealed a large red-coloured stain underneath the old carpet.
Slowly showing the blood-coloured patch, Stacey said: "I really hope someone spilt a coffee up here back in the day, because this is creeping me out."
Laughing, she added: "Although I haven't seen Joe in a while…"
In the caption the mother-of-three revealed that the last time she saw her fiance he had gone to buy DIY supplies
Referencing the stain, Stacey said: "I really hope this is coffee or ketchup, either way it's bl**dy getting ripped up, pardon the pun…
"Saying that I haven't seen Joe in a while, he said he was 'going to get paint' about three hours ago…"
After one of her followers messaged her to "get the holy water ready", a concerned Stacey revealed she was taking a different approach to cleansing her daughter's room.
"I don't have any holy water, where are you supposed to get that from?" she quizzed her fans.
She added: "It's not like they sell it in ASDA… I don't have holy water and I don't have sage."
In place of the items, Stacey explained her less than conventional approach to cleansing the patch on the floor.
"I've got room spray and swingers grass, so I'm just going to have to use this and hope for the best," she said, as she started spritzing the air and wafting the dried plant around.
Stacey is currently documenting the process of renovating her baby daughter's bedroom.
Months ago the star announced that she is expecting her second child with fiance Joe.
Stacey and Joe already share son Rex, two, and the ITV presenter has Zachary and Leighton from previous relationships.
Joe also has a son with his ex-fiance.
Source: Read Full Article