Soulja Boy Offers First Glimpse of His Newborn Son After Welcoming First Child With GF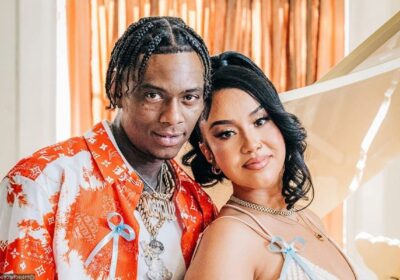 The 'Kiss Me Thru the Phone' reveals the baby's arrival just an hour after he shares a sweet tribute to his baby mama, Jackilyn Martinez, to celebrate her birthday.
AceShowbiz –Soulja Boy is officially a first-time father. Having welcomed his first child with his girlfriend Jackilyn Martinez, the "Kiss Me Thru the Phone" spitter took to social media to offer a first glimpse of the newborn.
On Friday, September 30, the 32-year-old emcee shared on Instagram a photo of him cradling his new bundle of joy. In the accompaniment of the post, he gushed, "Lil Soulja daddy love u."
Soulja is clearly excited by the baby's arrival. He even created an Instagram page for his son, KeAndre. The name is similar to the rapper's, which is DeAndre Cortez Way.
Soulja announced the baby's arrival just an hour after he posted a sweet tribute to his girlfriend. Posting some romantic pictures of the two, he exclaimed, "Happy birthday to my queen. today is your day you're the best."
Soulja broke the pregnancy news back in March. At that time, he shared a gender reveal video on his Instagram page which showed him popping a balloon that shot blue confetti into the sky.
Delighted by the result, the "Rick & Morty" rhymer ran to his baby mama before he hugged and kissed her in excitement. His friends and family, in the meantime, erupted in cheers. Soulja captioned the snap by simply writing, "It's a boy !!"
Months prior to that, Soulja informed his online devotees on Twitter that he's ready for fatherhood. "I have everything I want in life except for a son," he penned on Instagram Story in September 2021. "God please bless me I've been patient."
Source: Read Full Article