Sky News' Kay Burley asked for cooler studio amid 'tricky' menopause symptoms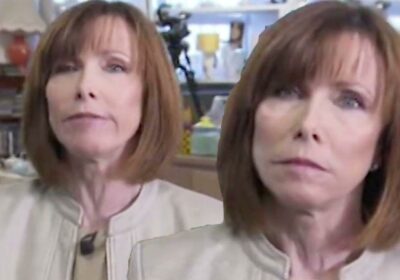 Sue Gray report: Kay Burley grills Tory MP on PM's meeting
We use your sign-up to provide content in ways you've consented to and to improve our understanding of you. This may include adverts from us and 3rd parties based on our understanding. You can unsubscribe at any time. More info
Kay Burley, 61, is one of Britain's best-known breakfast time broadcasters and has her own eponymous show on Sky News. But despite the nature of her job, she sometimes faces day to day struggles at the studio, including uncomfortable menopause symptoms.
Kay has spoken out on how the menopause affects her and how she mitigates the hot flushes it sometimes presents.
She candidly admitted last year that she had to request that the studio is set at a cooler temperature so that she does not sweat as much.
Kay explained: "The menopause is tricky. Especially for being on the telly.
"If I have a hot flush, the ladies need to come in during a break and try and sort my hair out.
"It looks like I've walked through the shower," she added to The Times.
During an interview last month, Kay put Foreign Secretary Liz Truss on the spot over the Northern Ireland protocol row.
The journalist was questioning Liz over the British Government's handling of the Northern Ireland Protocol amid a row with the European Union over aspects of the Brexit treaty which govern trade rules between the EU common market and GB.
Kay pointed out a recent discussion from Boris Johnson's Government about handling the outstanding issues with the Protocol which have sparked anger from both the DUP and Brussels.
Kay asked the Foreign Secretary: "It's not of your own making, but the Government has angered the DUP, the Government has angered the EU.
"So where does that actually leave us the UK? Are we sort of somewhere adrift in the Irish Sea!?"
Liz replied: "We have put forward a solution that base delivers for the people of Northern Ireland.
"It delivers for the problems that they've been facing, whether it's about tax or whether it's about trade, but also delivers for the EU single market, and that's what we want to legislate for.
"It's not scrapping the protocols. Some people have claimed it's fixing the protocol, making it better make it work better.
"And that works for everybody. That's the solution we want to get to"
Liz defined the issue in Northern Ireland as a situation of "grave concern".
She said: "The situation in Northern Ireland is of grave concern.
"The Belfast Good Friday Agreement was a huge step-change for Northern Ireland in a positive direction.
"We're now seeing that undermined by the fact that the Northern Ireland protocol isn't working," the politician told Sky News.
Liz had outlined her intention to bring forward legislation within weeks, overwriting parts of the post-Brexit deal, freeing goods destined to stay within the UK from EU-level checks.
She told the Commons the plans were necessary to reduce "unnecessary bureaucracy" and to protect the Good Friday Agreement, explaining that the EU's proposals "would go backward from the situation we have today".
Source: Read Full Article