Sir Rod Stewart hands photographer £20 after mistaking him for a homeless person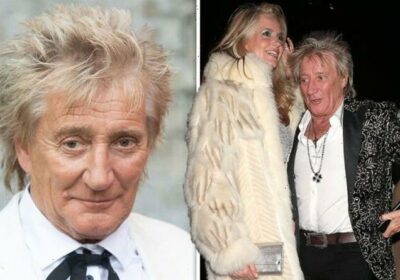 Chris Evans reacts to Rod Stewart's efforts to aid Ukraine
We use your sign-up to provide content in ways you've consented to and to improve our understanding of you. This may include adverts from us and 3rd parties based on our understanding. You can unsubscribe at any time. More info
Sir Rod Stewart mistook a photographer for a homeless person after a night out with his wife, Penny Lancaster, on Wednesday. The charitable rocker handed the snapper £20 in a touching gesture.
The Maggie May singer, 77, handed Tim Mclees the note while exiting a swanky club in London's Mayfair with wife Penny Lancaster, 51.
Sir Rod and Penny shared a kiss at the back of their car before dashing home from Oswald's in Mayfair.
The couple contrasted perfectly with Rod sporting a cream coat over a crisp white shirt which he wore unbuttoned at the collar with a tie hung loosely around his neck.
He completed his look with a pair of grey trousers and some worn white and grey shoes.
READ MORE: Will Smith 'set for more humiliation' over Jada's ex's tell-all book
Volunteer police woman Penny, who serves as a Special Constable with the City of London Police, opted for a chic black trouser suit.
The couple, who married in 2007, recently returned from New York where they looked more in love than ever clutching each other's hands while exiting a hotel.
The rocker and Loose Women panellist are often spotted putting on loved up displays, including at the Cheltenham Festival last month.
Rod and Penny are certainly no strangers to charitable donations.
During the pandemic, the couple raised more than £600k for the NHS as Rod auctioned off some of his memorabilia, including a signed Celtic top, a Cartier watch, and a photo of him receiving his knighthood in 2016.
In 2017, Rod donated £10,000 to the winner of the Prince's Trust Young Achiever Award at the Pride of Britain Awards.
The model railway enthusiast also donated £10,000 to a model railway club whose exhibition was destroyed by vandals back in 2019, and has recently been funding rescue efforts to save Ukrainian civilians amid Russia's ongoing invasion of the country.
While Penny gifted designer clothes and signed merchandise from her husband to the British Heart Foundation in 2020.
Earlier this week, Rod shared a family snap of himself with three of his children to celebrate Celtic's win in the Scottish Premiership.
The Do Ya Think I'm Sexy singer posed for a sweet picture with his daughter Renee Stewart, 29, and sons Alistair, 16 and Aiden Stewart 11, the latter two of whom Rod shares with Penny.
In view of his 1.1 million followers, Rod shared the family snap of him with three of his eight children.
He wrote: "Celtic forever @alastairwstewart @renee__stewart and Aiden #celtic @celticfc."
In the picture, Renee, who Rod shares with his ex-wife Rachel Hunter, donned an emerald green hoodie to show her support to her dad's favourite football team.
Alastair wore a pair of fashionable aviator sunglasses which he paired with a grey tracksuit and Celtic FC football shirt underneath.
He placed an arm affectionately around his musician dad who stood proudly with three of his brood while donning the football team's kit as a show of support.
Rod's youngest son, Aiden, looked thrilled as he held up the Celtic FC scarf and grinned cheekily while pointing to the club's logo.
Source: Read Full Article