Singer Kelis, 43, and her children 'almost fell off a cliff'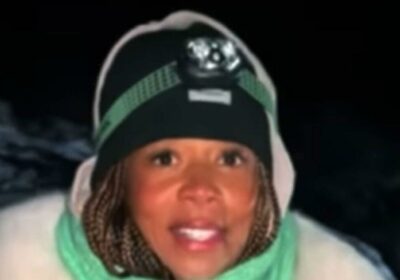 Kelis has car towed after getting stuck in the snow
We use your sign-up to provide content in ways you've consented to and to improve our understanding of you. This may include adverts from us and 3rd parties based on our understanding. You can unsubscribe at any time. More info
Kelis took to Instagram on Sunday with a video which surveyed the damage, as her vehicle was stuck protruding near the edge of a cliff during a snowstorm in California. The 43-year-old was inundated with messages from fans as she recalled the horror incident.
Taking to the picture-sharing site, the Milkshake hitmaker shared a clip on top of a snowy mountain.
She captioned the post: "My plan was to take the kids to the snow, but we almost fell off a cliff! So make the best of what ya got, n always be prepared lol."(sic)
Kelis added the hashtags: "#bigbear #blizzard #snowstorm #rescue #fashion #grateful."
In the candid video, she began: "My truck got stuck … it's, like, hanging."
The singer, whose full name is Kelis Rogers-Mora, said, "Praise God the tow truck actually made it – we've been outside for awhile."
The Grammy-nominated artist sported heavy snow gear as the singer stated she was clad in "ridiculous … rescue fashion" and "wearing layers to keep warm".
Kelis wore a puffy olive green coat teamed with a thick scarf and brown snowboarding pants.
She explained the family had intended to go snowboarding before the incident.
She showed off her heavily-layered snowboarding ensemble, which included a silver pair of Cougar snow boots.
Kelis added that the conditions were dangerous due to the dark conditions.
"I've got my light on, thank God, because it's pitch black out here," she said. "Silver boots [for] a little reflective action. Things could be worse."
She also showed the rescue team who towed her car following the incident.
Fans rushed to the comment section as they offered their well wishes to the performer.
Hair by Ash Nicole wrote: "Omg thank goodness yall are ok."(sic)
Black Diamonds penned: "Kelis I'm happy to hear you and your family are safe. Now stay in the house out of that snow!"
Rahkel commented: "Well I'm glad you all are ok."
Portia added: "Omg …. Not you almost falling off a cliff in style. It's not even funny but I'm glad your smiling and making light of a scary situation. I hope the kids aren't too shaken up. I would have been a nervous wreck."
Despite the terrifying situation, Kelis appeared to be in good spirits.
It comes just months after her husband, photographer Mike Mora, sadly died last year after a battle with stomach cancer.
Kelis and Mora married in 2014, and welcomed son Shepherd in 2015 and a daughter in September 2020 – whose name has not been revealed.
The singer also shares a son, Nasir bin Olu Dara Jones, with ex-husband and rapper Nas.
Source: Read Full Article